Elke Krystufek - Marmonie20
07 - 09 Sep 2012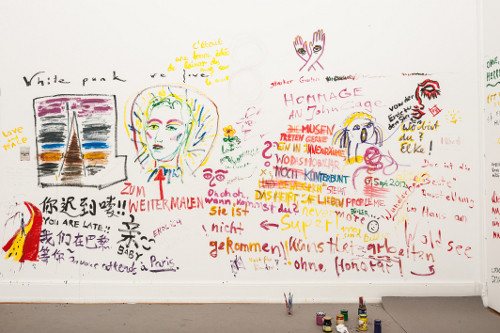 Nach dem Abbruch der Ausstellung "Harmonie 20" übermittelten die Besucher Botschaften an Elke Krystufek.
Foto: Harry Schnitger
ELKE SILVIA KRYSTUFEK - HARMONY 20
Landscape Art
7 - 9 September 2012

Contrary to our previous announcement that Elke Krystufek would transform Haus am Waldsee with paintings and objects from her archive into a three-dimensional "landscape painting" under the title "harmony 20," the artist has decided to leave the exhibition space empty. We perceive her action (or inaction) as a conceptual gesture. The show was opened, as planned, on September 6.
A no-show without prior cancellation and justification is, so far, singular in contemporary art circles. Haus am Waldsee has therefore decided to close the exhibition on September 10, 2012. From that day onwards the painter and video artist Erik Schmidt will set up his own exhibition entitled "Downtown." During the process of setting up the new show the house will remain open and welcome visitors between 12 and 6 pm, except on Mondays when it is closed.
Refusal and disappearance have entered the art world at least since minimal art and the first conceptual artists of the late 1960s. However, these artists all left traces of their actions or statements of avowal. Thus, for instance, the visitors of an exhibition series by the American painter and conceptual artist Robert Barry in 1969 at the Galleria Art & Project in Amsterdam found a sign saying: "During the exhibition the gallery will be closed." Other artists, such as Daniel Buren, have carried paintings into the exhibition space or affixed them to the architecture instead of hanging it on the walls like commodities. Tino Sehgal bars all kinds of documentation of his performances. Frank Bölter sends letters to justify why he is disinclined to apply for an exhibition. At documenta 13 Kai Althoff displayed a hand-written statement of the grounds that led him to retract his commitment to take part.
"Downtown" will be open from October 5 to December 31, 2012, and will comprise paintings, drawings and video works by Erik Schmidt. A catalogue in English and German will be published.