aschemünder
09 Apr - 04 Sep 2011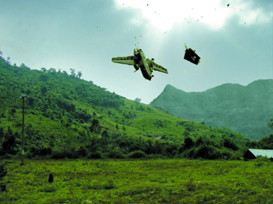 © David Claerbout
vietnam, 1967, near duc pho (reconstruction after hiromichi mine), 2001
still
1-channel video installation (colour, no sound)
3' 39"
courtesy sammlung goetz
ASCHEMÜNDER
the goetz collection in the haus der kunst
9 April - 4 September, 2011

as of spring 2011, the former air-raid shelter of the haus der kunst will be used to show films and media art from the ingvild goetz collection. the 13 underground, cabinet-like rooms have remained unchanged to this day and set out the theme for the first presentation: an air-raid shelter signifies refuge and protection in times of war, but it can also communicate a feeling of imprisonment and confinement. the works by willie doherty, harun farocki, mona hatoum, anri sala, rosemarie trockel and others, refer to war, dictatorship, torture and persecution.