Capsule 05 / João Maria Gusmão & Pedro Paiva
13 May - 18 Sep 2016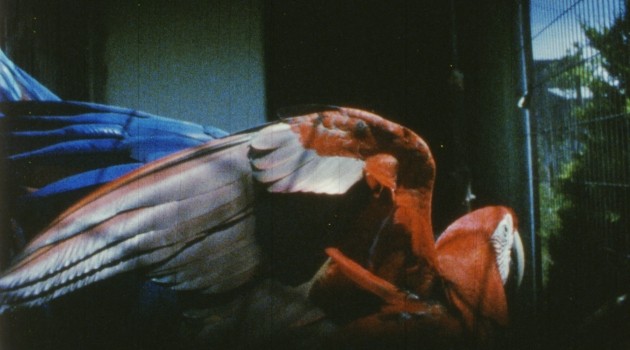 João Maria Gusmão & Pedro Paiva
Glossolalia ("Good Morning"), 2014, produced by Fondazione HangarBicocca, Milan, courtesy of the artists and Galeria Fortes Vilaça, São Paulo; Galeria Graça Brandão, Lisboa; Sies + Höke, Düsseldorf; ZERO..., Milano
CAPSULE 05 / JOÃO MARIA GUSMÃO & PEDRO PAIVA
Peacock
13 May – 18 September 2016

For the third time, Haus der Kunst's Capsule exhibitions give young, international emerging artists the opportunity to present new works. The Capsule format provides each artist with an autonomous exhibition space.

The Portuguese artist duo João Maria Gusmão (born 1979) and Pedro Paiva (born 1977) has developed a magical and mysterious oeuvre over the past 15 years, which includes films, photographs, sculptures, and camera-obscura-installations. Recorded on 16-mm celluloid film, their works show physical experiments, processes of nature, and episodes of everyday life, mostly combined with the mysterious or poetic-philosophical: an endlessly rotating water mill ("Water Mill", 2012 ), or a turkey standing in front of a landscape picking grains ("Cassowary", 2010). In "Fried Egg" (2008), one of their most known films, you can see how an egg is fried. The living fish in "Cowfish" (2011), lying on a plate, gasping for air and flapping its fins, seems as it could succeed at any moment the impossible act of taking off and flying away. The scenes depicted question our ability to see, and remain mysteries that appeal to our imagination and our ability to dream.