Rise and Fall of Apartheid
15 Feb - 26 May 2013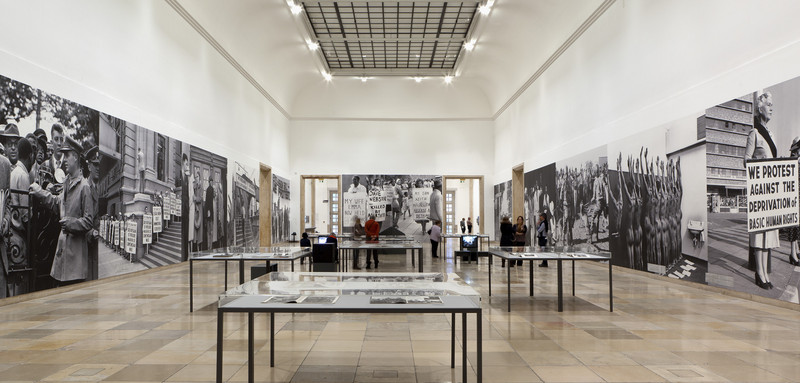 Rise and Fall of Apartheid, installation view, Haus der Kunst, 2013, photo Wilfried Petzi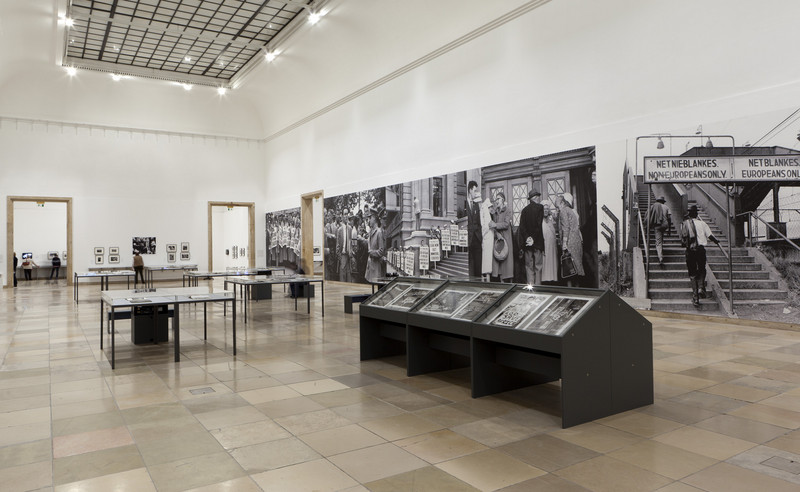 Rise and Fall of Apartheid, installation view, Haus der Kunst, 2013, photo Wilfried Petzi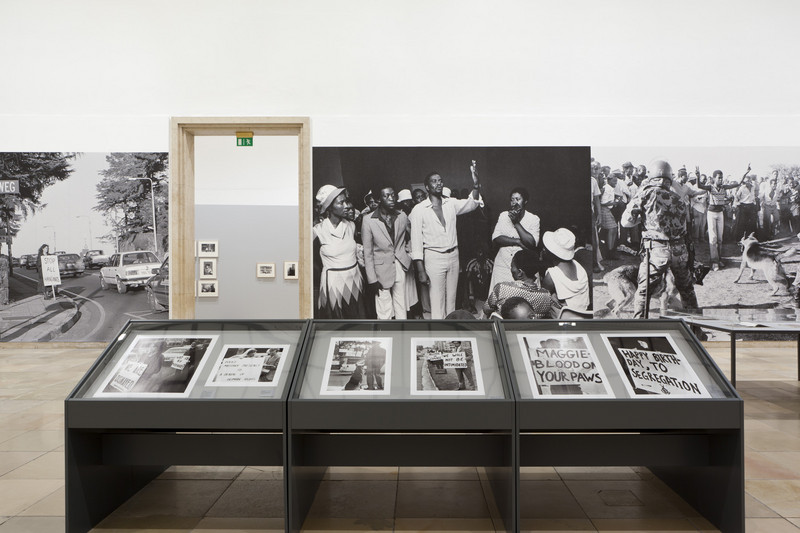 Rise and Fall of Apartheid, installation view, Haus der Kunst, 2013, photo Wilfried Petzi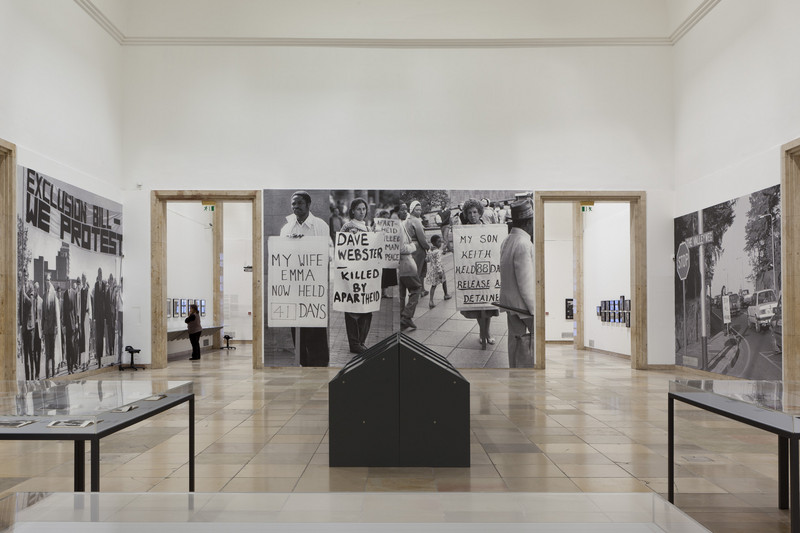 Rise and Fall of Apartheid, installation view, Haus der Kunst, 2013, photo Wilfried Petzi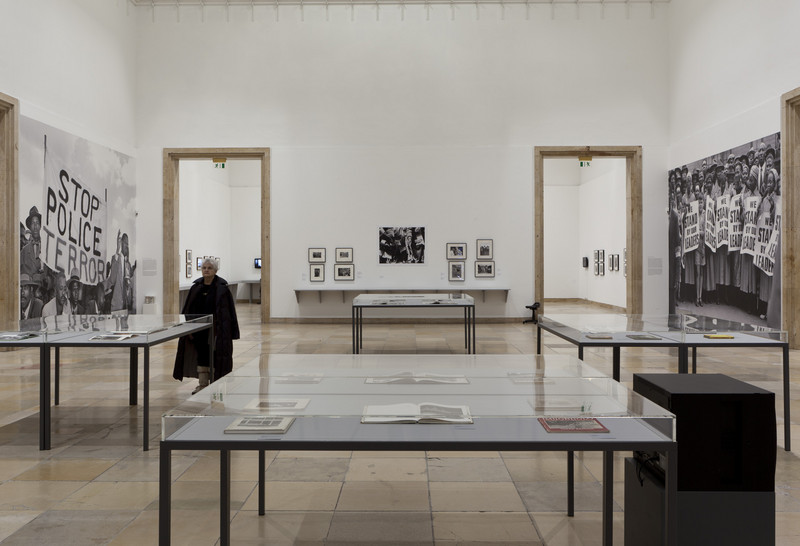 Rise and Fall of Apartheid, installation view, Haus der Kunst, 2013, photo Wilfried Petzi
Rise and Fall of Apartheid, installation view, Haus der Kunst, 2013, photo Wilfried Petzi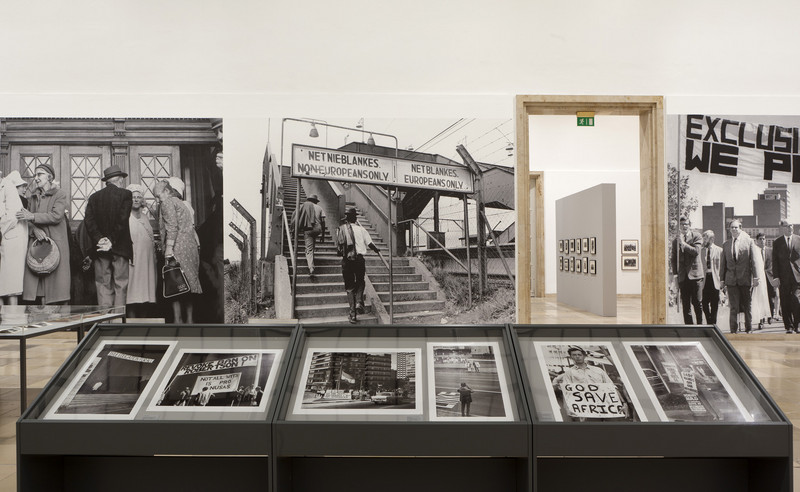 Rise and Fall of Apartheid, installation view, Haus der Kunst, 2013, photo Wilfried Petzi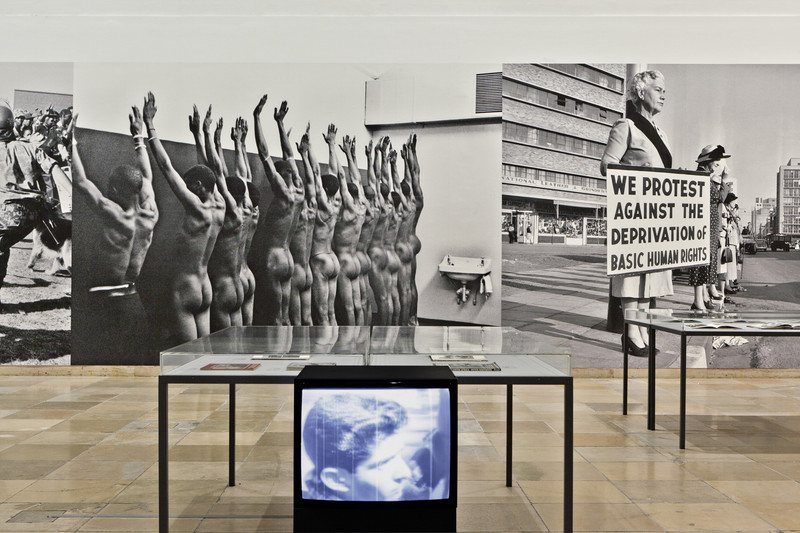 Rise and Fall of Apartheid, installation view, Haus der Kunst, 2013, photo Wilfried Petzi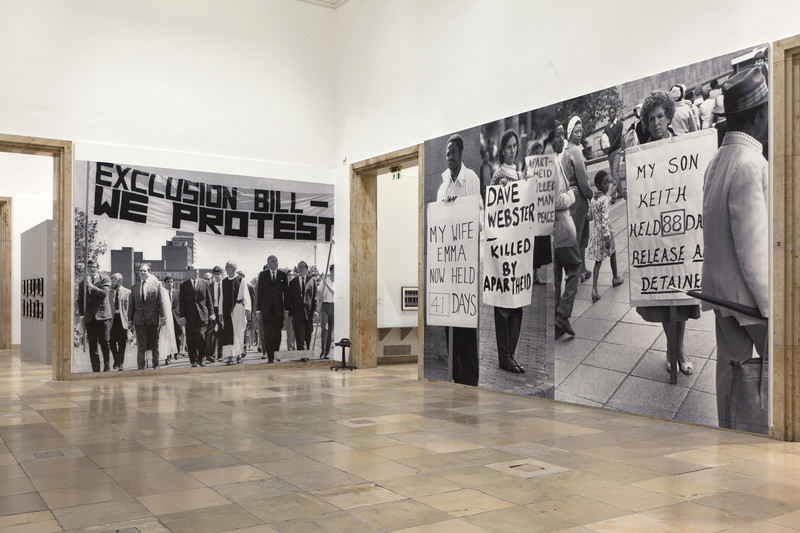 Rise and Fall of Apartheid, installation view, Haus der Kunst, 2013, photo Wilfried Petzi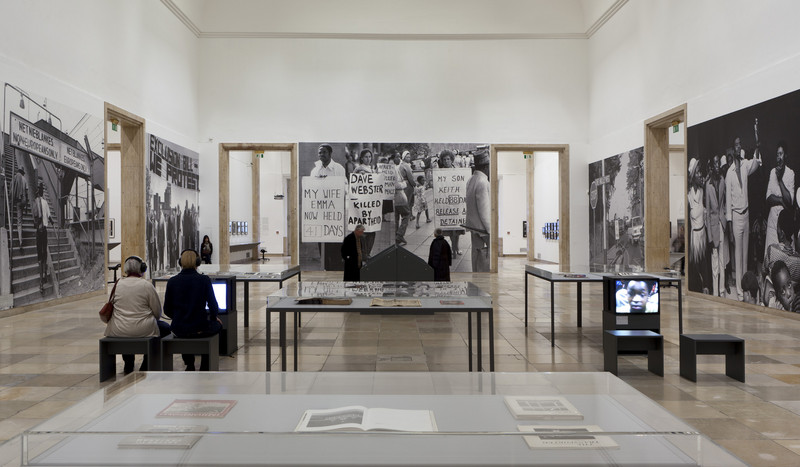 Rise and Fall of Apartheid, installation view, Haus der Kunst, 2013, photo Wilfried Petzi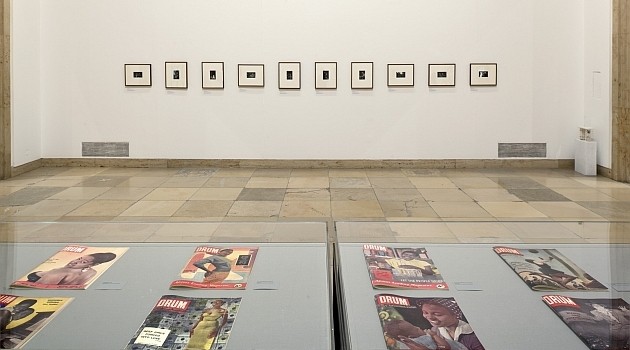 Rise and Fall of Apartheid, installation view, Haus der Kunst, 2013, photo Wilfried Petzi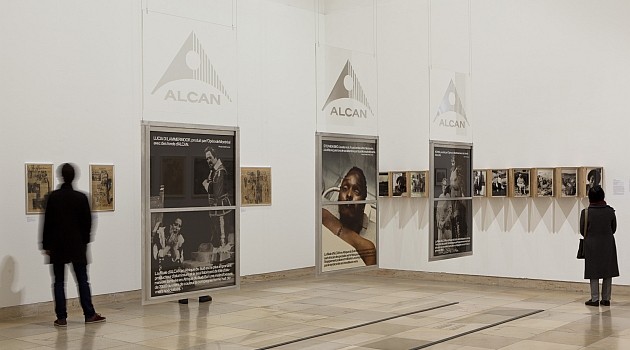 Rise and Fall of Apartheid, installation view, Haus der Kunst, 2013, photo Wilfried Petzi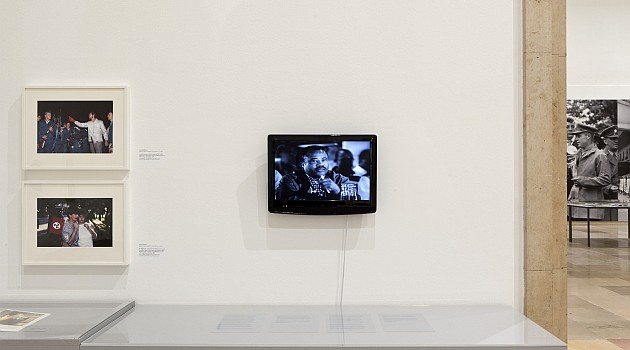 Rise and Fall of Apartheid, installation view, Haus der Kunst, 2013, photo Wilfried Petzi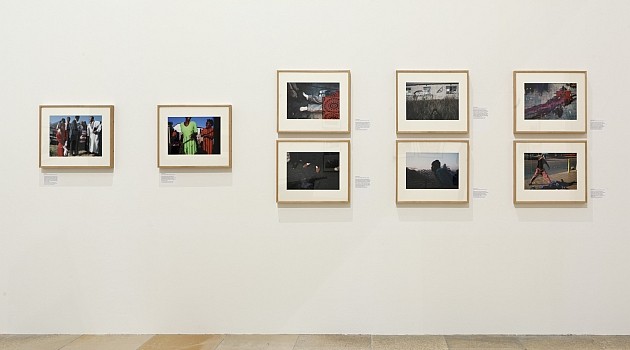 Rise and Fall of Apartheid, installation view, Haus der Kunst, 2013, photo Wilfried Petzi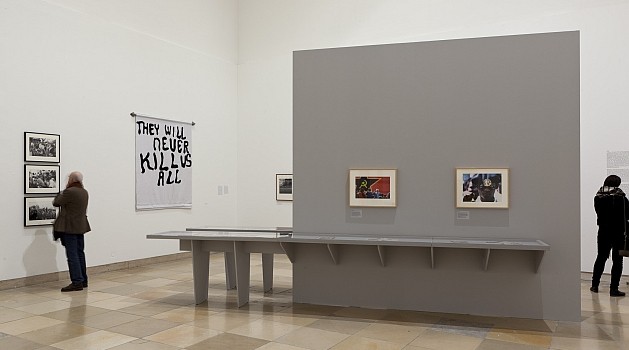 Rise and Fall of Apartheid, installation view, Haus der Kunst, 2013, photo Wilfried Petzi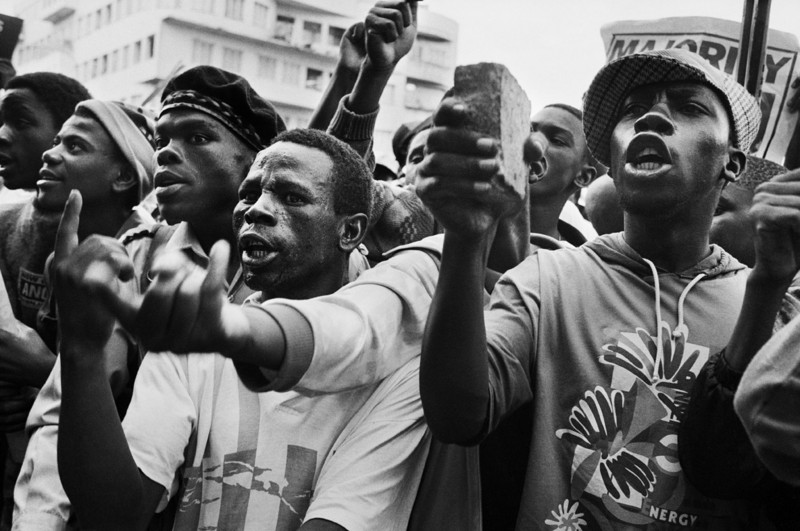 Jodi Bieber
Protest against Chris Hani's assassination, 1993
© Goodman Gallery Johannesburg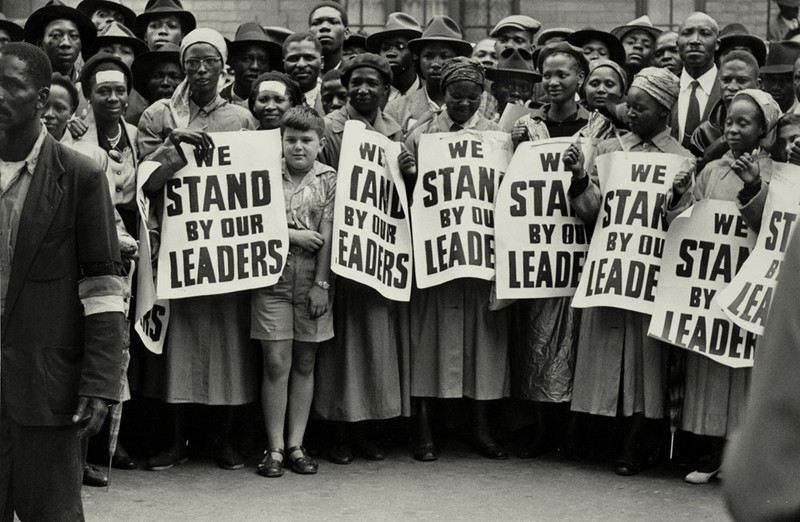 Eli Weinberg
Crowd near the Drill Hall on the opening day of the Treason Trial, Johannesburg, 19. Dezember 1956
Times Media Collection, Museum Africa, Johannesburg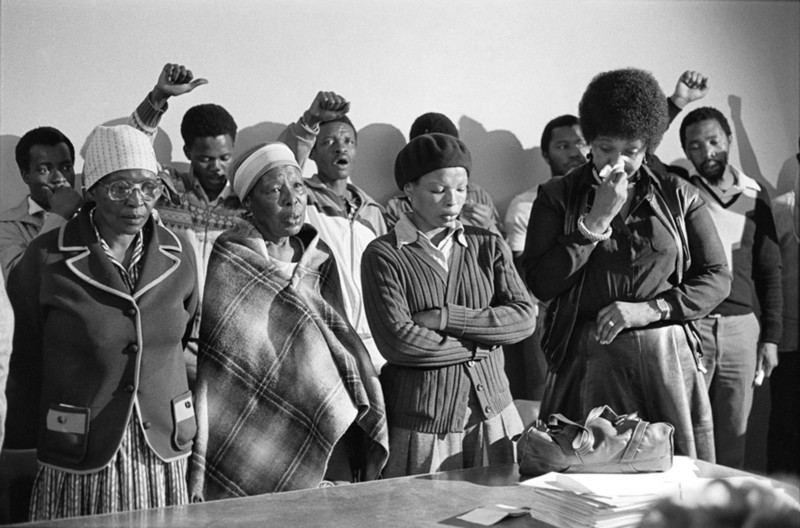 Gille de Vlieg
Pauline Moloise (mother of Ben), two women & Winnie Madikizela Mandela mourn at the Memorial Service for Benjamin Moloise, who was hanged earlier that morning. Khotso House, Johannesburg, October 18, 1985.
© Gille de Vlieg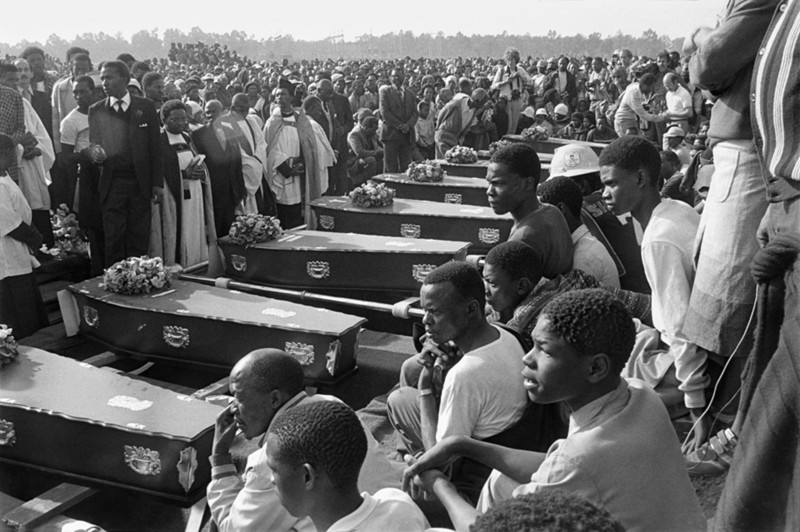 Gille de Vlieg
Coffins at the mass funural held in KwaThema, Gauteng, July 23, 1985
© Gille de Vlieg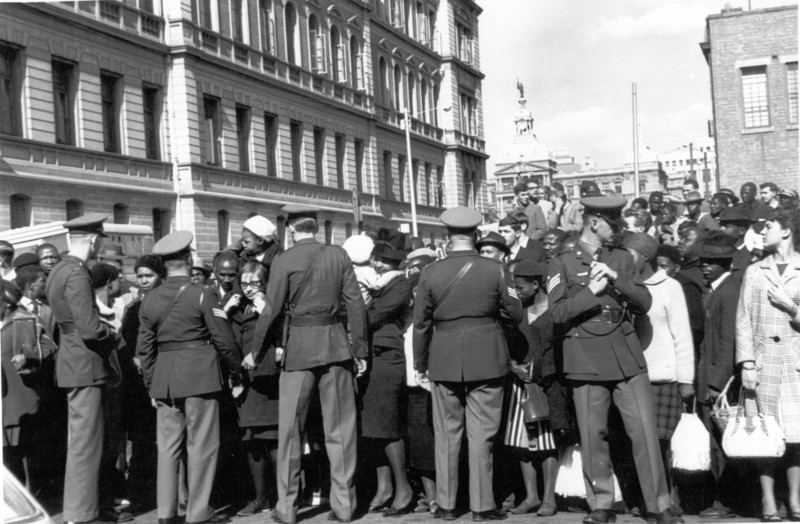 Alf Khumalo
South Africa goes on trial. Police outside the court. The whole world was watching when the three major sabotage trials started in Pretoria, Cape Town and Maritzburg. Outside the palace of Justice during the Rivonia Trial, 1963.
Courtesy of Bailey's Archive
© Bailey's Archives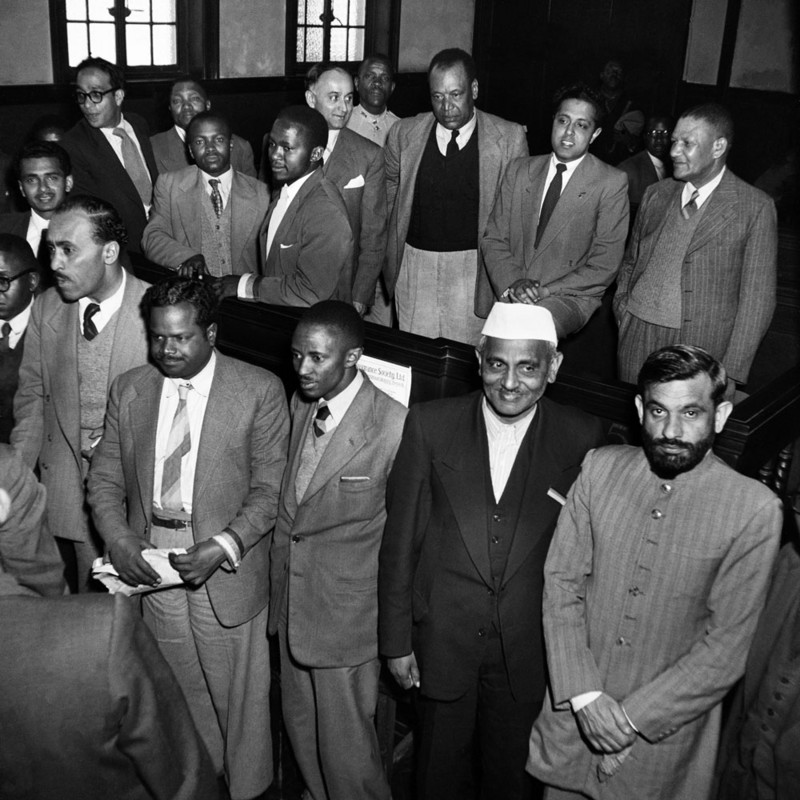 Jürgen Schadeberg
20 defiance campaign Leaders appear in the Johannesburg Magistrates Court on a charge of contravening the Suppression of Communism Act, August 26, 1952.
Courtesy the artist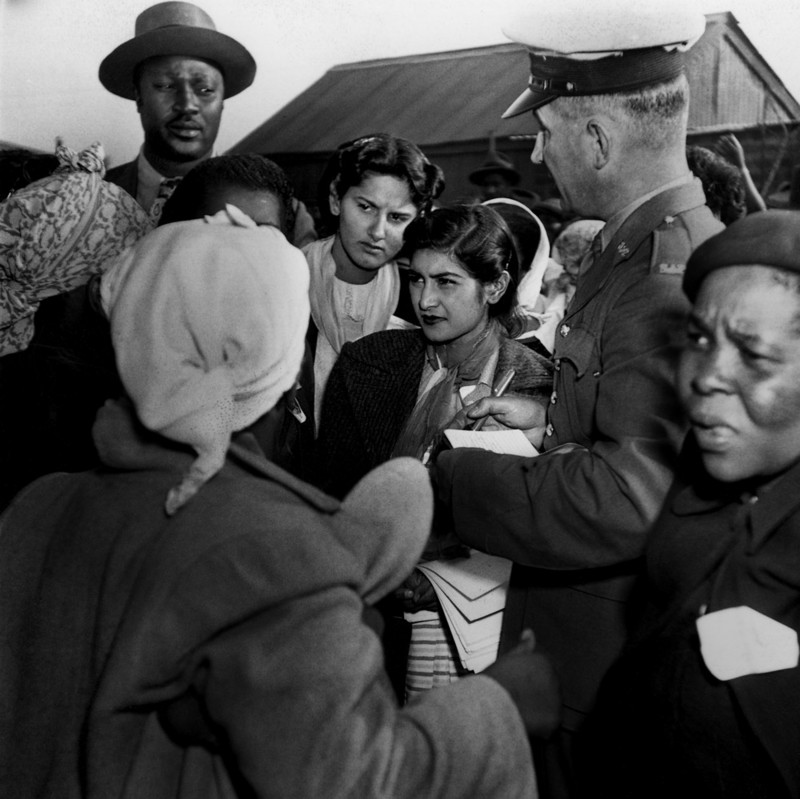 Jürgen Schadeberg
The 29 ANC Women's League women are being arrested by the police for demonstrating against the permit laws, which prohibited them from entering townships without a permit, 26th August 1952.
Courtesy the artist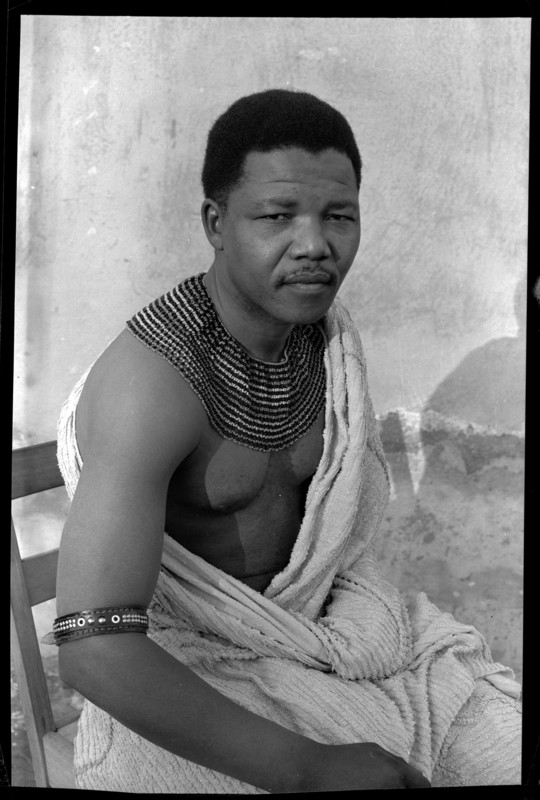 Eli Weinberg
Nelson Mandela portrait wearing traditional beads and a bed spread. Hiding out from the police during his period as the "black pimpernel," 1961
Courtesy of IDAFSA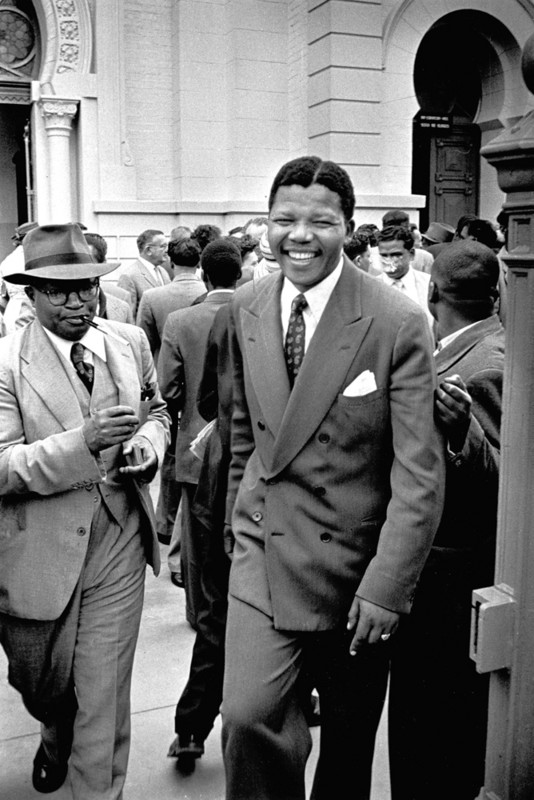 Jurgen Schadeberg
Nelson Mandela, Treason Trial, 1958.
Courtesy the artist.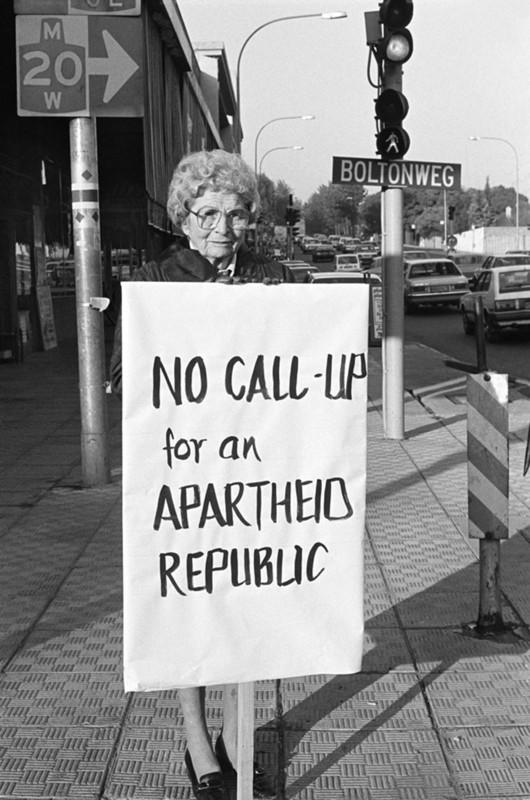 Gille de Vlieg
Jean Sinclair, founding member of Black Sash, protesting in Jan Smuts Ave, Johannesburg, May 30, 1985
© Gille de Vlieg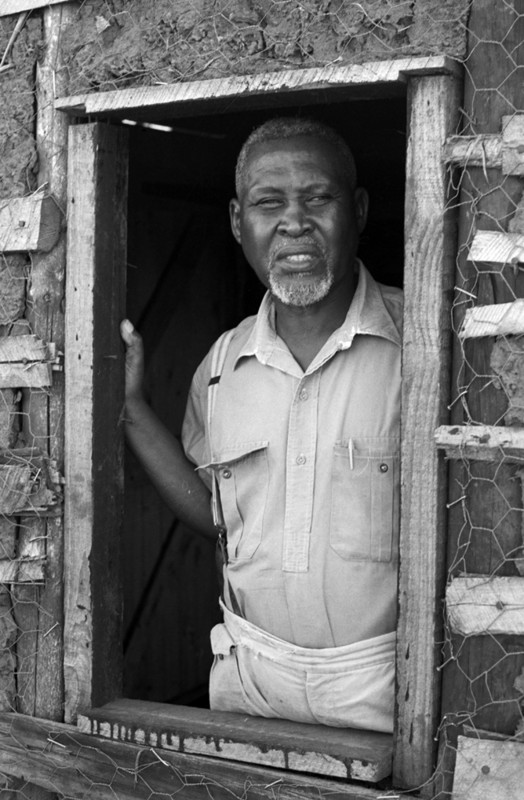 Ranjith Kally
Chief Albert Luthuli, former President General of the African National Congress, Rector of Glasgow University and 1960 Nobel Peace Prize Winner, gagged by the government from having any of his words published in his country, confined to small area around hus home near Stanger in Natal, April 1964.
© Bailey's Archives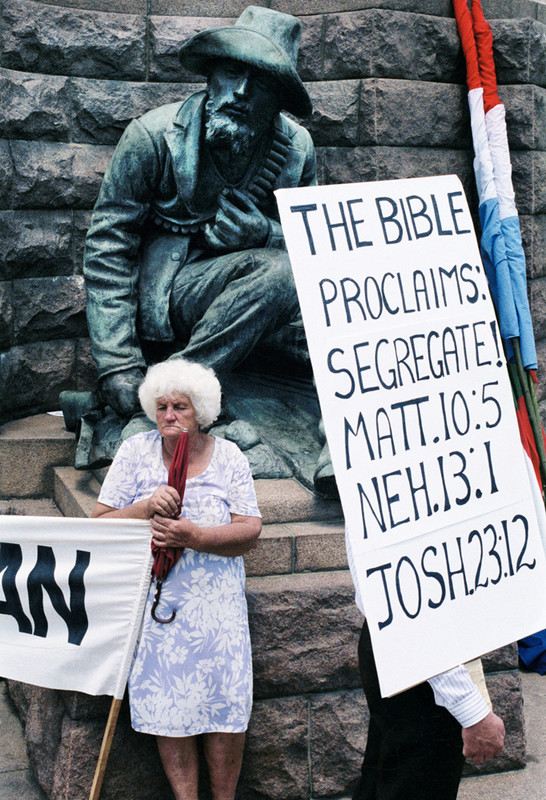 Greame Williams
Right-wing groups gather in Pretoria's Church Square to voice the anger at the F.W. de Klerk government's attemps to transform the country, 1990.
Courtesy the artist
© Greame Williams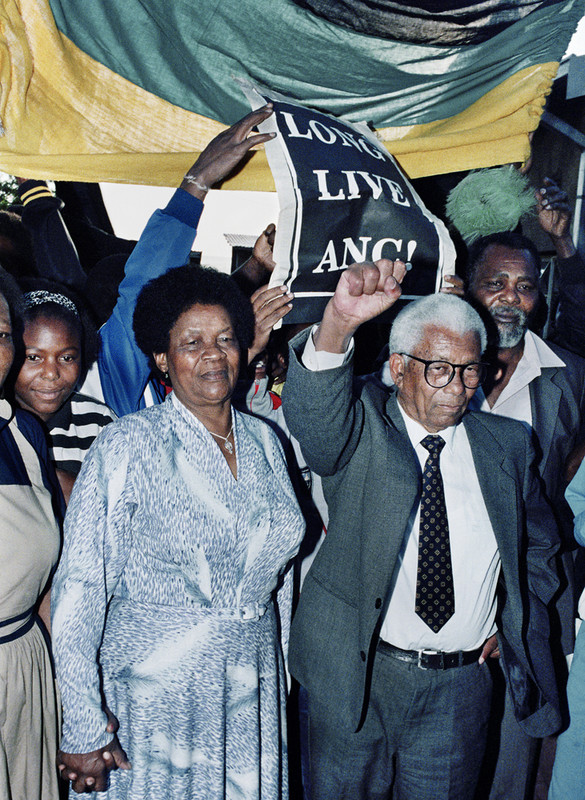 Greame Williams
Walter Sisulu and his wife Albertina at their Soweto home after his release from Prison, 1989
Courtesy the artist
© Greame Williams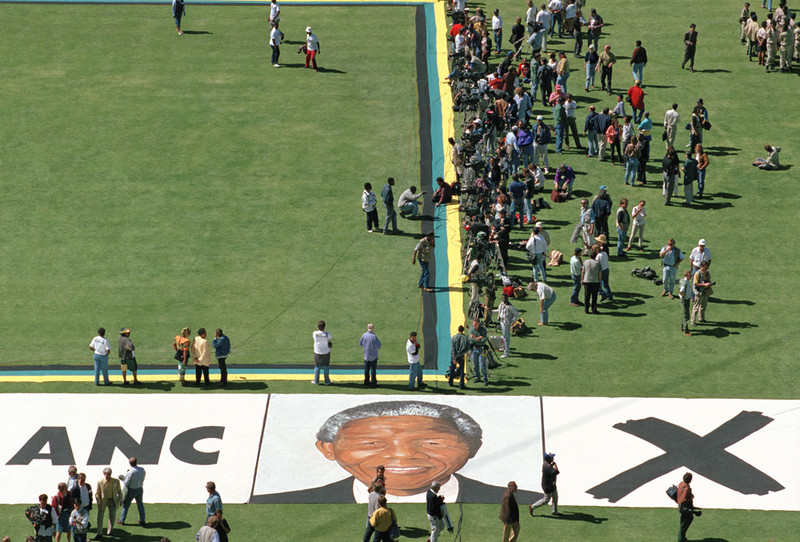 Greame Williams
Portrait of Nelson Mandela painted on the grass of Soweto's largest football stadium during an election rally, 1994
Courtesy the artist
© Greame Williams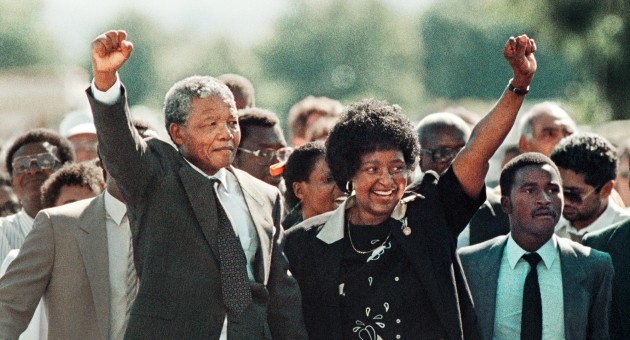 Greame Williams
Nelson Mandela mit Winnie Mandela as he is released from the Victor Vester Prison, 1990
Courtesy the artist
© Greame Williams.
RISE AND FALL OF APARTHEID
Photography and the Bureaucracy of Everyday Life
15 February - 26 May 2013
"Rise and Fall of Apartheid" offers a comprehensive historical overview of the pictorial response to apartheid, which has never been undertaken before. Through its images, this exhibition explores the significance of the 50-year civil rights struggle, from how apartheid defined and marked South Africa's identity from 1948 to 1994, to the rise of Nelson Mandela, and finally its lasting impact on society. The exhibition examines the aesthetic power of the documentary form – from the photo essay to reportage, social documentary to photojournalism and art – in recording, analyzing, articulating, and confronting the legacy of apartheid and its effect on everyday life in South Africa.
Apartheid, the compound Dutch word meaning separate (apart) and neighborhood (heid), was the political platform of Afrikaner nationalism and created a political system designed specifically to promote racial segregation and enshrine white domination. In 1948, after the surprise victory of the Afrikaner National Party, apartheid was introduced as official state policy. Over time, the system of apartheid grew increasingly ruthless and violent toward Africans and other non-white communities. It not only transformed the modern political meaning of citizenship, it invented a wholly new society in both fact and law. The result was a reorganization of civic, economic, and political structures that penetrated even the most mundane aspects of social existence – from housing, public amenities, and transportation to education, tourism, religion, and businesses.
A central premise of this exhibition is that South African photography, as we know it today, was essentially invented in 1948. The exhibition argues that the rise of the Afrikaner National Party to political power and its introduction of apartheid as the legal foundation of governance changed the pictorial perception of the country from a colonial space based on racial segregation to a highly contested space based on the ideals of equality, democracy, and civil rights. Photography was almost instantaneously alert to this change and in turn transformed its own visual language from a purely anthropological tool to a social instrument. Because of this, no one else photographed South Africa and the struggle against apartheid better, more critically and incisively, with deep pictorial complexity and penetrating insight, than South African photographers. It is this exhibition's goal to explore and pay tribute to their exceptional photographic achievement. An image by Sam Nzima from 1976, for example, shows the 12-year-old Hecter Pietersen, who was killed when high school students protested against the introduction of Afrikaans as the language of instruction ("Soweto Uprising"). The photograph depicts the boy, just moments after his death, being carried in the arms of a fellow student. It went on to become one of the most famous depictions of the struggle against apartheid.
Other historic events are also the subject of the photographs: the "Treason Trial" of 1956-61; the Sharpeville Massacre of 1960; the release of Nelson Mandela in 1990; and the riots during the 1994 election. The exhibition's focus, however, is not on the history of apartheid, but rather explores its normative symbols and signs. In an image by Peter Magubane, for instance, a white girl is sitting on a bench with the inscription "Europeans only". Her black nanny strokes her neck but must do this from the back bench. Equally impressive is Magubane's demonstration of what the separation of residential areas according to skin color meant for blacks' everyday lives. He shows them on a bus, sleeping in uncomfortable positions on the long and arduous journey from their villages to places of work.
The exhibition includes the work of nearly 70 photographers, artists, and filmmakers. Complex, vivid, evocative, and dramatic, "Rise and Fall of Apartheid" covers more than 60 years of powerful photographic and visual production that form part of the historical record of modern South African identity. Accompanied by more than 500 photographs, artworks, films, videos, documents, posters, and periodicals, the exhibition brings together a rich tapestry of materials, many of which have rarely been shown together.
Included in the exhibition are the exceptional works of pioneering South African photographers such as Leon Levson, Eli Weinberg, David Goldblatt, Peter Magubane, Jürgen Schadeberg, Sam Nzima, Ernest Cole, and the responses of contemporary artists including Adrian Piper, Hans Haacke, or William Kentridge. The exhibition also features the works of a new generation of South African photographers such as Sabelo Mlangeni and Thabiso Sekgale, who explore the impact of apartheid as it continues to resonate today.
"Rise and Fall of Apartheid: Photography and the Bureaucracy of Everyday Life" is organized by the International Center of Photography, New York in collaboration with Haus der Kunst.