Hans Arp
11 Jun - 21 Jul 2012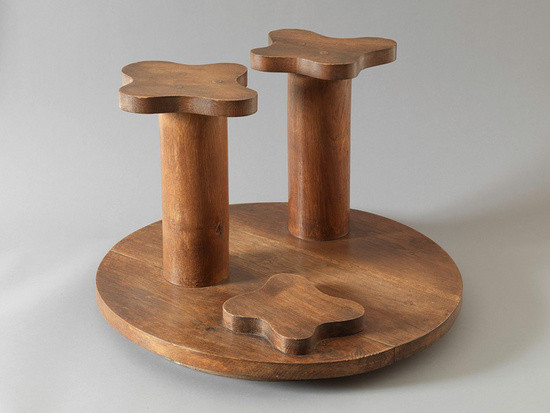 Hans Arp
Plan Surélevé dit "Tables-forêts" / Raised Plane called "Forest Tables", circa 1926—1931
Oak wood construction
41.3 x 64.1 x 61.9 cm / 16 1/4 x 25 1/4 x 24 3/8 in
© 2012, ProLitteris, Zurich
HANS ARP
Ovi Bimba
11 June – 21 July 2012

For its first exhibition back at the newly renovated Löwenbräu brewery building, Hauser & Wirth is proud to present 'Ovi Bimba', a major exhibition of important and rarely seen works by painter, sculptor, poet and Dada pioneer, Hans Arp. Curated by renowned Dada scholar Juri Steiner, 'Ovi Bimba' features over seventy works ranging from wood reliefs and collages to lithographs and bronze sculptures. The exhibition positions these diverse pieces alongside those of Arp's fellow artists, including his wife, Sophie Taeuber-Arp. In addition to providing a selective overview of Arp's enigmatic practice, 'Ovi Bimba' furthers the gallery's longstanding commitment to presenting museum-quality exhibitions of contemporary and modern masters.

Focusing his attention on everyday objects, Arp created his own unique 'object language' using a nonsensical vocabulary: plate, fork, knife, clock, tie, moustache, lips, breasts. With a playful hand he juggled the dominant art currents of the early 20th century, combining seemingly contradictory geometric and organic formal idioms with the artistic '-isms' of his epoch. 'Ovi Bimba' explores the development of Arp's 'object language', tracing the artist's practice from the first decade of the 20th century to the 1950s and focusing upon his time in Zurich where he co-founded the Dada movement in 1916.

Throughout the 1910s and 1920s, Arp illuminated the Dada journals of his colleagues with abstract gestures and figures, elevating randomness to the stature of a design principle. His works were painted, printed, cut, or torn and his pasted collages were arranged 'according to the laws of chance'. A selection of these works on paper, highlighting the principles of spontaneity so imperative to the Dada movement, will be shown in 'Ovi Bimba'.

Turning his back on the increasingly modernised, turn of the century society, Arp created biomorphic works whose organic, amoeboid forms highlighted his fascination with the physiological processes of procreation, growth and death and counteracted the rectilinear structures of Cubism. Arp studied the mineral, vegetable, and animal worlds for inspiration and, in works such as the wooden sculpture 'Plan Surélevé dit "Tables-forêts"' (c. 1926 – 1931) and the relief, 'Rencontre (Encounter)' (1934), Arp documented the evolution of an imaginary world. Combined with his late bronze sculptures from the 1950s, these works sought to give form to natural forces – clotting, hardening, congealing and fusing – all of which were symbols of eternal cycles in nature for Arp.

In the 1930s, the Zurich-based art historian Carola Giedion-Welcker recognised the relevance of Arp's vision of nature, and saw in his works the 'invisible made visible, the search for a visual language capable of capturing the spiritual realms beyond the world of appearances'. Arp's innovative and influential practice prefigured the Fluxus movement, inspired artists such as Anthony Caro and Joan Miró, and made way for the great contemporary performance artists.