Ida Applebroog
17 Mar - 30 Apr 2011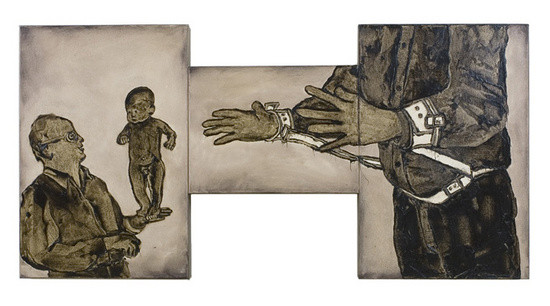 © Ida Applebroog
Marginalia (strapped man), 1992
Oil and resin gel on canvas, 3 panels
71.1 x 122.6 x 7.8 cm / 28 x 48 1/4 x 3 1/8 in
IDA APPLEBROOG
17 March – 30 April 2011

Hauser & Wirth is proud to present an exhibition of major works by the American artist Ida Applebroog. Describing herself as a 'generic artist', Applebroog's subject is a sustained enquiry into the polemics of human relations. She appropriates mainstream media in innovative ways and transforms her canvases into structural elements, effectively questioning the viewer's active involvement in her works.

Applebroog first came to attention in the 1970s with her 'comic strip' works, which presented a succession of identical images in window-like cellular structures. In the mid-1980s, these paintings evolved into altarpiece constructions, joining several different sized canvases. In the early 1990s, Applebroog reached a turning point in her career with the 'Marginalia' series. With 'Marginalia', Applebroog's joining of images takes on a precarious spatial dynamic. Balanced on top of one another, leaning against walls or laid flat on the floor, the canvases are conceived as fragments of room-sized installations. The conventional clothing of Applebroog's subjects marks them out as everymen or women, yet their multiple parts tell of psychoses: a man holding a baby has his arms strapped so that there is little else he can do; a woman clasps two guns, only to have a third held between her legs. 'When I work with canvases,' Applebroog states, 'I work with three-dimensional structures. It's about structures, it's about stagings'. The installed 'Marginalia' works hold the viewer at their centre, their appearance dependent on where one stands.

In 'Monalisa', the staging of images is taken further. Numerous drawings are latticed together on a wooden scaffold creating a house-like structure. The drawings are digitally reworked versions of Applebroog's 'Vagina Drawings' – a group of drawings originally made in 1969 when the artist spent hours in the 'little sanctuary' of the bathroom.

Inside the house is 'Monalisa' – a painting of a giant doll-like figure, whose lumpy, blood red body courts the viewer with open legs and staring eyes. The construction recalls Duchamp's infamous 'Étant Donnés', which was first exhibited in 1969, the same year Applebroog began making her series of 'Vagina Drawings'.

'Caleb', Applebroog's most recent work, similarly confronts the viewer with multiple images of a single body. Its starting point, a tiny sculpted figurine, is photographed and digitally manipulated in a technique Applebroog names 'Photogenetics'. In these physical permutations, Applebroog tests how little is needed to create a person, and what we, as observers, are prepared to recognise and accept.

A symposium on Applebroog's work, including discussions led by Jo Applin, art historian and lecturer at The University of York; Jon Bird, Professor of Art and Critical Theory at Middlesex University; Briony Fer, Professor in History of Art at University College London; Tamar Garb, Durning Lawrence Professor in the History of Art, University College London; and critic, curator and writer Elisabeth Lebovici, will take place on Saturday 19 March at University College London.