Ida Applebroog
19 Jan - 06 Mar 2010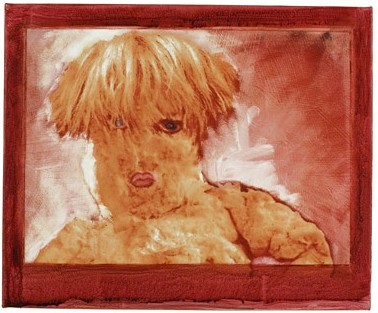 © Ida Applebroog
Monalisa, 2009
Mixed media on canvas
48.8 x 59.3 x 3.8 cm / 19 1/4 x 23 3/8 x 1 1/2 in
IDA APPLEBROOG
"MONALISA"

19 January – 6 March 2010, Hauser & Wirth New York

Opening: Tuesday, January 19, 6 – 8pm

New York, NY... In 1969, Bronx-born Ida Applebroog was living in southern California with her husband and four children. Busy as a mother and an artist, she took refuge in the one place that guaranteed solitude: the bathtub, a "little sanctuary" where she would soak for two to three hours every evening. Over the course of several weeks that year Applebroog also brought sketchpads to the bathroom and drew her own naked body – specifically her crotch – from reflections in a mirror. The result of this ritual was more than 160 vagina drawings rendered in India ink and pencil. Some were highly detailed, others were fancifully exaggerated, and still others were abstractions comprising a single elegantly curved line. Each drawing chronicles an intimate act of self-exploration by a woman and artist.

These drawings, unseen by anyone other than their maker, returned with Applebroog to New York City in 1974 and were packed in a basement and forgotten until studio assistants discovered them in early 2009. Together these images comprise a remarkable archive that, forty years on, serves as a key component in an entirely new body of work called Monalisa. The centerpiece of this project is a room-sized wooden structure covered with more than 100 new drawings made from the original vagina images, which Applebroog has scanned onto handmade Gampi paper, enlarged and digitally manipulated, enhanced with occasional washes of pale pink, grey, and yellow. Translucent vellum wrapping a bare, enclosed wooden structure, the facades of this building evoke skin stretched over a bony skeleton. Applebroog's architecture – an updated "little sanctuary" conceived through the lens of 80 years of life – makes home and body interchangeable analogs, containing the terrors and pleasures of existing in both.

Beginning January 19, 2010, Hauser & Wirth New York will present this major installation in the exhibition 'MONALISA', on view through March 6. 'MONALISA' also will include a selection of the original vagina drawings from 1969.

The exhibition is accompanied by a new book, Ida Applebroog MONALISA, featuring an extensive illustrated essay by critic and art historian Julia Bryan-Wilson and a photographic study of the Monalisa house by Abby Robinson.

Applebroog's construction is based upon a photograph of a small home in the early stages of its framing, unfinished and empty. Her exterior and interior walls are a patchwork of the new vellum vagina drawings. Other drawings are affixed to small ladders that lean against the interior surfaces. There is no open front door; the viewer cannot enter but can peer inside through the gaps, slits and seams of the patch-worked walls of vulva images. On the interior back wall hangs Applebroog's large painting ( Monalisa ) of a reclining doll-like figure amid a deep red atmosphere, legs spread and a direct yet inscrutable gaze on her face. Where the front door would be, an ambiguously gendered visage ( Brian ) stares. Applebroog refers to her installation as "Monalisa's house." However, at roughly eight and a half feet wide, sixteen feet deep, and twelve feet high, the structure is more a room than a house. It simultaneously calls to mind Virginia Woolf's A Room of One's Own (1929) and Marcel Duchamp's infamous Etant Donnés, which was unveiled to the public for the first time in 1969 – the same year that Applebroog found sanctuary in the bathroom.

With Monalisa, Applebroog has made a portrait of the exquisite unresolved tensions between self-disclosure and interiority, public and private life, the priorities of womanhood and the prerogatives of an artist. By revisiting images made forty years ago and further advancing her work's inventive relationship between form and content, the artist's installation connects directly with previous achievements while forging fresh directions. Her career has spanned more than four decades, taking her from artist's books to paintings and video, to digitally produced drawings and now, full environments. But in all of these she has been pre-occupied by the same issues of emotional violence, politics of domestic space, and the dark humor of everyday gestures. The new work on view in the exhibition 'MONALISA' uses seriality in ways that formally echo Applebroog's critically admired multi-paneled pieces – works that repeat an image but add simple sentences that undercut its presumed innocence to reveal failures in language, psychosexual damage and power inequities – but introduce a more open, if no less challenging, narrative.