Psycho Buildings: Artists and Architecture
28 May - 25 Aug 2008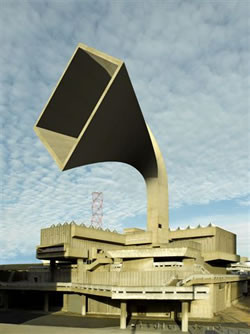 © Atelier Bow-Wow, 2008. Photo: Ed Reeve
Specially commisioned artwork transforming The Hayward into a 'Psycho Building'
'The extraordinary international artistic response to Psycho Buildings shows just how challenging, exciting and playful The Hayward can be.' Ralph Rugoff, Director of The Hayward and curator of the exhibition.

This exhibition marks The Hayward's 40th anniversary as one of the world's most architecturally unique exhibition venues.

The exhibition brings together the work of artists who create habitat-like structures and architectural environments that are perceptual and physical spaces as much as psychological ones. Immerse yourself in ten atmospheric, enthralling and unsettling installations that redefine the way that we relate to our surroundings. Become an adventurous participant as you explore The Hayward's spaces inside and out, including a room frozen in a moment of explosive disaster, an eerie village of over 200 dollhouses, a floating plastic cloud and a skyline boating pond.

Artists included in the exhibition are Atelier Bow-Wow (Japan), Michael Beutler (Germany), Los Carpinteros (Cuba), Gelitin (Austria), Mike Nelson (UK), Ernesto Neto (Brazil), Tobias Putrih (Slovenia), Tomas Saraceno (Argentina), Do-Ho Suh (Korea), Rachel Whiteread (UK).

The exhibition also includes a cinema screening of architecturally inspired films including: Chris Burden Beam Drop (1984) Andrea Fraser Little Frank and his Carp (2001) Gordon Matta Clark, Conical Intersect (1975) and Jane Crawford and Robert Fiore, Sheds, (2004).