Basim Magdy
07 Sep - 19 Oct 2013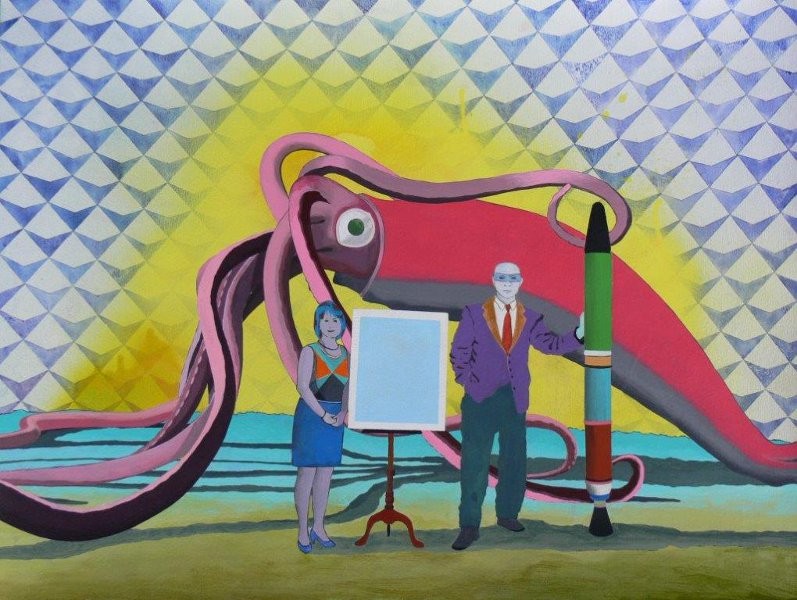 © Basim Magdy
They Endorsed Collective Failure as the Dawn of a New Renaissance, 2013
acrylic, spray paint and watercolor on paper
45.5 x 60.5 cm
BASIM MAGDY
A Future of Mundane Miracles
7 September - 19 October 2013

curated by Marketa Stara

The work of the Egyptian artist Basim Magdy always originates from and leads back to the individual and questions related to human destiny and our existence. As suggested by the title of the artist's newest film, Crystal Ball is a look into the future and the ambiguous questions that go with it: How do we view the future of mankind, what shall tomorrow bring, what form will it have, and what role will humans and the history of mankind play? 'A Future of Mundane Miracles' is the first comprehensive exhibition of Magdy's work in the Czech Republic. In addition to the new film Crystal Ball, the exhibition will also feature the slide projection Investigating the Color Spectrum of a Post-Apocalyptic Future Landscape and a series of recent works on paper, all from this year.

Basim Magdy (born 1977) studied painting at the faculty of Fine Arts of the Helwan University in Cairo. His work has been included in exhibitions around the world, including most recently The Future Generation Art Prize (Kiev, 2012 and Venice, 2013); LaTriennale, Palais de Tokyo, (2012), Confronting the Monster in a Monster Costume (solo), Centre Culturel Suisse, Paris, FR, (2013); How to Build an Invisible Monument (solo), IDEA Space, Colorado College, Colorado Springs, USA (2013); A Steady Progress of Nothingness (solo), Newman Popiashvili Gallery, New York (2013); 2013 Sharjah Biennale, curated by Yuko Hasegawa; Basim Magdy, Espace Croise - Centre d'Art Contemporain, Roubaix, France (2013). His work will be featured in the upcoming 13th Istanbul Biennale; Dissident Futures, Yerba Buena Center for the Arts, San Francisco; 2013 Picha Recontre, Lubumbashi Biennial, Democratic Republic of Congo; Biennale Jogja xii, Indonesia; and was recently awarded Abraaj Art Prize, which commissions major works from young artists from the Middle East, North Africa and South East Aisa region.