Michael Portnoy
17 Oct - 16 Nov 2008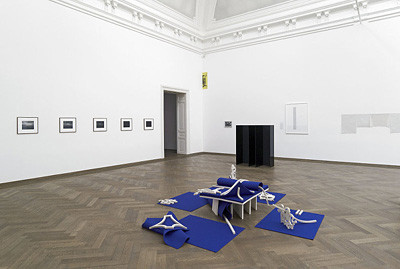 Michael Portnoy
FILZZUNGEUNGEWISS, 2008
perspex, felt
34 x 275 x 284 cm
Installation view:
Word Event, Kunsthalle Basel
MICHAEL PORTNOY
"Lend a Polt in the Put"

IBID PROJECTS is pleased to present the first UK solo show of New York-based artist Michael Portnoy. 'Lend a Polt in the Put' includes new and recent sculptures as well as a specially conceived video produced and filmed in London shortly before the opening. Among a series of covered tables, burnt and engraved die, mother of pearl tokens and bundles of Belarusian currency, Portnoy has transformed the space into a quasi-gaming environment or casino, in which the works on display appear set up for play, ready to be activated by players in one of the artist's energetic, participatory performances.

In the first room are two large sculptures both featuring the same twisting, geometric shapes that have become a common motif in Portnoy's work. Based upon a bed of dyed black sand, Tongue Pit (Linguistic Table) (2008) contains symbols with familiar serifs - three-dimensional texts that fall from the ceiling and flow over the sides as if they had come to life. Also in the main gallery is Three Moves Away from Palaver (2008), a table with mirrored surface and sides, game pieces and tokens, diagrammatic blue figures and felt pieces arranged and piled on top of one another. Like a foreigner encountering a game from another culture (Portnoy is himself influenced by native American pastimes among other things) they are both familiar and yet strange, here acting as accessories or backdrops to performances which the artist describes as 'abstract gambling'. During these sessions (that will take place in the back room around a further table, Talus (2007)) the artist encourages visitors to interpret his numerous, confused and absurd instructions amidst a constantly shifting set of rules and stream of chance events. The video conveys something of the language of the tables and the tragedy and vertigo that lies beneath them.

Michael Portnoy's multi-disciplinary practice is primarily informed by his background in theatre and dance. Most recently, he has explored the writings of sociologist Roger Caillois. In the 1970s Callois described a particular category of game, 'ilinx', which aims to "momentarily destroy the stability of perception and inflict a kind of voluptuous panic upon an otherwise lucid mind". The resulting interactions and engagements by Portnoy have unpredictable and comic effects, possessing a Dada-like theatrical quality that is nonetheless rooted in (a skewed version of) reality.

Michael Portnoy (b. 1971, Washington D.C.) has participated in numerous group exhibitions including recently Word Event (2008) at Kunsthalle Basel, curated by Maxine Kopsa and Roos Gortzak; 5 on 5 is 5 (2007), part of the 2nd Moscow Biennale; and, A Choreographed Exhibition (2007), Kunsthalle St. Gallen, Switzerland. Recent solo exhibitions and performances include Casino Ilinx (2008) at SculptureCenter, New York and The Gutsongs of Xar (2007), Tensta Konsthall, Stockholm.