Enrico David
27 Sep - 11 Nov 2007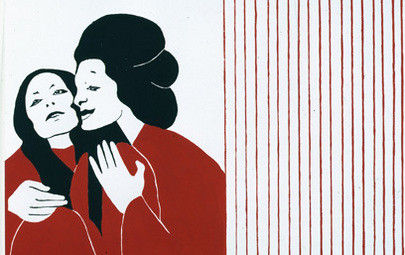 Enrico David, Shitty Tantrum: on the eve of our kabuki play, I console my boyfriend for running out of ideas (detail), 2006-7. Courtesy of the artist and Cabinet, London
Enrico David
27 Sept - 11 Nov 2007

"This is the kind of exhibition that made the ICA famous 50 years ago: it has a classic quality that reminds you these galleries saw the birth of pop art. Here is the 21st-century version of Richard Hamilton's muscleman - an emaciated hysteric in a carnival mask and slippers, the anti-hero of art in our time. *****" Jonathan Jones, The Guardian

This is the first major public exhibition by artist Enrico David, including paintings, works on paper, sculptures and vitrines from the last five years, as well as two large-scale installations. David is Italian by birth but based in London, and over the last decade has quietly established a reputation as one of Britain's most original artists. This exhibition will demonstrate some of the ongoing strands within his work, which borrows from craft and design techniques and often features stylised figures staged within erotic or tragic-comic scenarios.