Keep Your Timber Limber
19 Jun - 08 Sep 2013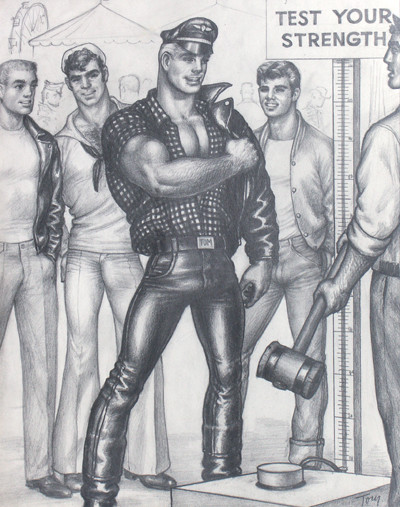 Tom Of Finland (Finnish, 1920 – 1991)
Untitled, 1961
Graphite on paper
Tom of Finland Foundation Permanent Collection #61.11, © 1961 Tom of Finland Foundation
KEEP YOUR TIMBER LIMBER
Works on Paper
19 June - 8 September 2013

Support us by becoming a member or purchasing an ICA edition. To be invited to forthcoming exhibition Private Views sign up to our newsletter.

Keep Your Timber Limber (Works on Paper) explores how artists since the 1940s to the present day have used drawing to address ideas critical and current to their time, ranging from the politics of gender and sexuality, to feminist issues, war and censorship. Stretching from fashion to erotica, the works can all be viewed as being in some way transgressive, employing traditional and commercial drawing techniques to challenge specific social, political or stylistic conventions.

The exhibition brings together the work of eight artists: Judith Bernstein, Tom of Finland, George Grosz, Margaret Harrison, Mike Kuchar, Cary Kwok, Antonio Lopez and Marlene McCarty.

Curated by Sarah McCrory, the exhibition draws on the way artists turned to the commercial realms of comics, fashion and illustration to revitalise drawing within the visual arts - many of the works in Keep Your Timber Limber (Works on Paper) were originally produced for a commercial context. One common aspect of these varied practices is a high level of technical skill - these are artists who often confounded critics of their subject matter unable to condemn their technique. Choosing to step outside the boundaries of social acceptability, the works in Keep Your Timber Limber (Works on Paper) comprise modest proposals and trenchant political gestures.

Please be aware that this exhibition contains material visitors may find challenging. Some of the works in the Upper Galleries contain sexually explicit imagery.