Loris Gréaud
25 Apr - 22 Jun 2008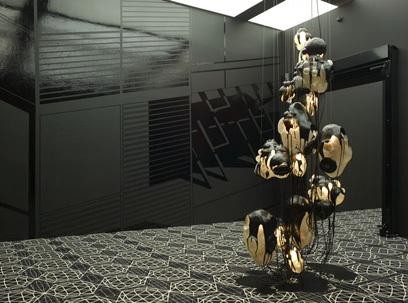 Installation view, Loris Gréaud: Cellar Door (Once is Always Twice), ICA, London, 2008. All works courtesy the artist and Yvon Lambert, Paris & New York. Photograph by Steve White.
LORIS GRÉAUD
The ICA is proud to present the first UK solo exhibition by French artist Loris Gréaud, entitled Cellar Door (Once is Always Twice). Gréaud, one of the most innovative and distinctive artists to emerge on the international art scene in recent years, is presenting a new installation which consists of three almost identical rooms, and which draws on his interweaving interests in art, architecture and music. This installation is a continuation of a large-scale ongoing project by Gréaud, entitled Cellar Door.
You can see shots of the Cellar Door installation in our Loris Greaud gallery, listen to Adrian Searle's Guardian podcast about the exhibition, and watch an interview with Loris from
artreview.com
.
Gréaud's practice is characterised by a desire to fuse different fields of knowledge and activity, in a manner which is both futuristic and utopian. His modus operandi is comparable to that of cinematic production (involving collaboration and co-authorship), and he often works with experts from diverse disciplines (including architects and scientists). Gréaud's work is orientated to ideas and processes rather than finished form, and his projects are liable to manifest themselves in different ways over time, and to move between rumour and fact.
Cellar Door is an ambitious artistic experiment that has a range of manifestations. One is Gréaud's installation at the ICA; another is a recent exhibition at Palais de Tokyo; a third is an opera which will be staged at the Paris Opera at the end of the year; and a fourth is an actual studio space which Gréaud is building for himself on the outskirts of Paris. The notion of an artist's studio is fundamental to Cellar Door: operating as a symbol of imagination and potential, and as the starting point of a perpetual cycle of activity.
Gréaud's installation at the ICA, with its three almost identical rooms, reveals another of the artist's key preoccupations - the notion of doubling and repetition. The repeating elements within the rooms include: high-speed automatic doors which open like shutters; special light-emitting speakers designed by the artist; and a carpet with a pattern derived in part in part from architect Buckminster Fuller's experiments with the geodesic dome. Finally, Greaud's installation at the ICA will be subject to a number of periodic interruptions, one of which is the arrival of three identical figures serving black champagne.
Gréaud's Cellar Door project is developed further in Celador - a bag of sweets available from a vending machine in the ICA's bar. The twist is that the sweets have absolutely no taste, and the artist's intention is that whoever eats them can project whatever flavour they like onto them - thus reflecting the open-ended and collaborative nature of the Cellar Door project as a whole.