Social Fabric. The Globalization of the Textile Industry
05 Jul - 15 Sep 2013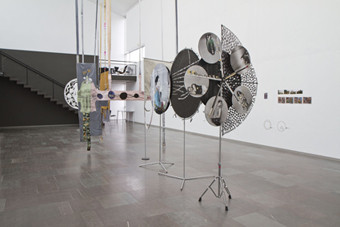 Apparatus for the Osmotic Compensation of the Pressure of Wealth during the Contemplation of Poverty, installation
© Alice Creischer; Courtesy: KOW Berlin
Cultural Transfers #5
SOCIAL FABRIC. THE GLOBALIZATION OF THE TEXTILE INDUSTRY
Curator: Grant Watson
5 July - 15 September 2013

Alice Creischer
Céline Condorelli
Sudhir Patwardhan
Archana Hande
Prabhakar Pachpute

Cultural transfers are not only a phenomenon of our twenty-first century globalized world: every exchange, and every encounter between cultures, was and is always accompanied by a voluntary or forced, slow or lengthy acceptance of the "other" – from raw materials to religions, from cultural motifs to structures and even strategies. Cultural transfers do not only enrich our Western societies, but they shape them fundamentally: coffee and tea, cotton and silk are initially the simplest form of cultural appropriation, and they are now an indispensable part of our everyday lives.

In the exhibition "Social Fabric" the curators and artists explore how raw materials (cotton), goods (textiles), structures (patterns for clothing), and production and manufacturing techniques with cotton were and still are transferred from India to Europe. The exhibition looks at strategies of exploitation and appropriation, and also of inclusion and exclusion at the centres and the periphery. We focus on the historical background to social inequality and injustice, on colonial structures and postcolonial developments, and on world trade and political and economic structures of power that persist to this day. In "Social Fabric" these questions are addressed by artists: Alice Creischer, Céline Condorelli, Archana Hande, Sudhir Patwardhan, and, for the first time in Europe, Prabhakar Pachpute. This exhibition takes the example of cotton and the textiles industry in India and Europe to show how globalization works, with a programme of films, historical material from archives, and contemporary documents in image, text, and sound.