Rosy Future
25 Jan - 16 Mar 2013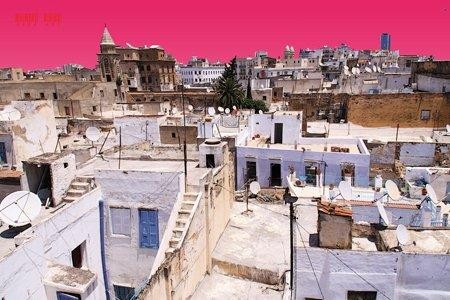 from the series: Free Art /// Free, 2010-12, digitale photography, posted in the public space, variable dimensions
© Patricia K. Triki
ROSY FUTURE
Contemporary Art from Tunisia
Curators: Christine Bruckbauer and Patricia K. Triki
25 January - 16 March 2013

Mohamed Ben Slama
Mohamed Ben Soltane
Aïcha Filali
Faten Gaddes
Moufida Fedhila
Mouna Jemal Siala
Sonia Kallel
Halim Karabibene
Mouna Karray
Nicène Kossentini
Hela Lamine
Patricia K. Triki
Rania Werda

The road to democratisation in Tunisia is rugged and rocky. Realising the aims of the January 2011 rebellion, like for instance introducing personal freedom, is more difficult than initially expected. The revolution is not yet completed!
The exhibition "Rosy Future" provides an insight into contemporary art practices in post-revolutionary Tunisia. All artists selected for this project live and work in Tunisia. They all have been witnesses or active participants of the historical changes from January 2011. In their artworks they respond to events occurring within their social and political environment. They highlight conflicts that had been concealed or conserved during the dictatorial past and that now re-emerge after the revolution. They address antagonisms within the society, contrasts between the traditional rural population and modern Western-oriented urban dwellers, conflicts between Tunisian men and women, and controversies between supporters of a secular state and Islamic fundamentalists, which quite often turn violent.
Since the revolution, the streets provide the scene for many works of art in Tunisia. Therefore, the exhibition project also dedicates a space to those artists who prefer to operate in the public arena. Since if would be absurd to carry these projects, many of which have been specifically conceived for the street, into the gallery, they will be presented in the form of (art) videos and over the internet.