Bernhard Fuchs
03 Sep - 02 Oct 2010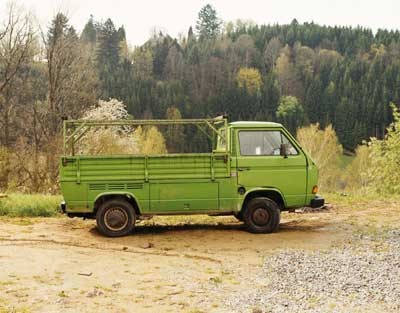 © Bernhard Fuchs
Gruner VW-Transporter (Green VW Van), Helfenberg, 2002
Photograph
24.25 x 29.75'' (framed)
BERNHARD FUCHS
"Autos"

September 3 – October 2, 2010
Opening: September 3, 6-9 pm


"On my bicycle tours, time and again, I saw passenger cars, busses, and trucks which just stood around. I think my first reaction was o look for the absent owners. Since I hardly ever saw anyone, I stayed alone with the situation, and a relationship to these vehicles began to develop as I would not have expected it. The car in the landscape had an impact on me, similar to the impact of actors on a stage, and since then I began to collect their wit and their tragedy."

The Jack Hanley Gallery is pleased to present "Autos", a solo exhibition of photographs by Bernhard Fuchs. The series "Autos" is a collection of images of cars parked in parking lots and on roadsides. Their stillness haunts, their solitude mystifies. In the absence of human life, the cars in Fuchs' landscapes take on their own pulse, their function moves beyond expected utility. Here, in a moment of the "happened upon," travel freezes in contemplation.
Born in 1971 in Haslach an der Mühl in Upper Austria, Bernhard Fuchs studied with Bernd Becher at Kunstakademie Düsseldorf and with Timm Rautert at Hochschule für Grafik und Buchkunst Leipzig; he currently lives and works in Dusseldorf. Since 1991, his work has been exhibited in Germany and abroad: Museum Ludwig , Cologne Germany; Museum Folkwang, Essen Germany; Goethe Institute Washington D.C. and Paris. Several of his photographic series including "Autos" have been published internationally in monographs of his work.