Abschüssige Heiterkeit
23 Jul - 05 Sep 2010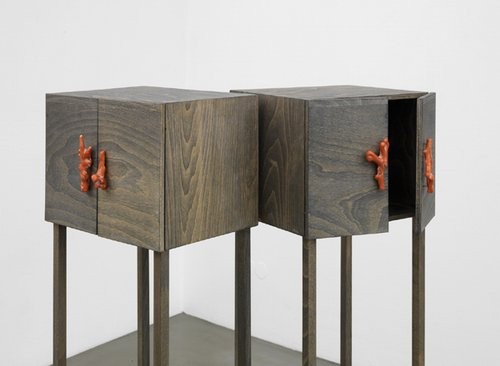 © Maria Loboda
The same cabinet with its doors open, 2010 (detail)
Beech, coral, woodstain
120 x 30 x 30 cm; 47,2 11,8 x 11,8 inch
ABSCHÜSSIGE HEITERKEIT

Max Brand
Matthias Dornfeld
Gregor Hylla
Maria Loboda

July 23 until September 5, 2010
opening reception Friday July 23, 7pm

Sloping Exhilaration

In an expression of his pleasurein unbridled colour and anarchic forms, clues and connections, Max Brand begins his material battles with the preparation of the battlefield. A three-dimensional structure emerges through the loose application of differentpieces of material; the specific behaviour of the sometimes pastos, sometimes sprayed colours adapts itself to controled accident: seams, folds and holeslead the blend of colours.
From this original condition of the means of construction, recognisable elements emerge, which assert themselves so decisively over loose rags and knotted crusts that one begins tosuspect secret messages. What is meant by the duck? And why do the primary colours in the destilling flask defy the traditional colour-form-correlations? Thus the figures hovering over the wilderness elicit a search for semantic shallowness.

The steps from searching tofinding, which with Brand are so close-set and therefore so traceable, are in Matthias Dornfeld's layers, one over the other, more guessable than visible.Dornfeld's figurative motifs are the final stages of a development which slumbers under the surface. One, because we see her in profile, but even those seen frontally avoid it. Sometimes their pupils focus on a point just next tous, sometimes we vainly search for eyes in caverns. Dornfield's pictures are thus never portraits, but are always beyond the individual - pure types, yet with an urgent force fulness. Their similarity to archaic idols results from the strictness with which the details are combined to surfaces, gesture and mime are levelled to mask-like regularity, and minute structures can be barely suspected under an abstracting, almost opaque layer of colour.

With their sharp surfaces, Dornfeld's schemes create a hinge between the commotion which Brand's objects create around them and the discipline with which Gregor Hyllas' concretepainting with draws into itself. The exact implementation of sophisticated concepts results in a division of the picture surface in horizontal, vertical and diagonal zones in the primary colours as well as a few blends. Muted tones dominate, and unbroken, they appear only in small areas - on larger planes their luminosity is darkened and deepened. Applied in retrospect to previously colourful ares, the white allows these to be seen only as a tone. It then comesaccross not so much as a colour than as a gap, without creating an illusionary impression of space.
Hillas' concentration on few forms and colours is therefore thanks to a conscious choice for painting - with all its peculiarities. Far from suggesting a perfection which is in opposition to this medium, he places his trust in the effects of the medium itself, which occur through pigments drying and congeling or through other reactions.

Maria Lobodas' collages are also created along these lines; yet the fabric's structure is overlayed with dancingly foreign bodies. Irregularly contored forms move through these and the weave and so create, in front of the tapestry, a space of tensely interwoven lines. Their presentation upon the grey textile emphasizes the material workmanship of the images and connects these more two-dimensional works to Lobodas' mainly architechtonic work.
The Same Cabinet with its Doors Open, two objects made of beech wood which, with their surreally long legs, defy the title of cabinets, also speak of this preference for the connection between careful workmanship and spiritual symbolism. Furnished with red corals instead of a handel, the association, due to these less than functional ornaments, is to be found more with sacred vessels anyway. The coral was once viewed as unbeatable in fending off the evl eye because of tis similarity to the snake hair of the Medusa. With such an attribute you can entrust the guarding of any secret room to this tricky doorman.