Yinka Shonibare MBE
17 Apr - 17 May 2008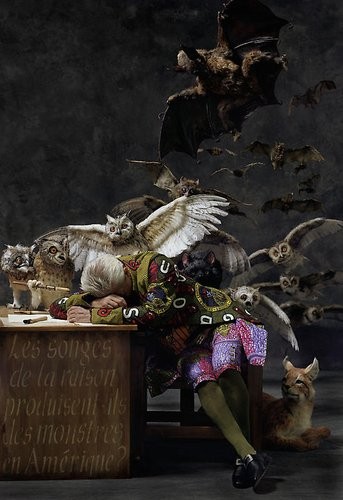 © Yinka Shonibare MBE
The Sleep of Reason (America), 2007
5 color C-prints
6' x 5' each
Courtesy the artist, James Cohan Gallery, NY
YINKA SHONIBARE MBE
"Prospero's Monsters"

April 17 - May 17, 2008

James Cohan Gallery is pleased to present the second New York gallery show by renowned sculptor, filmmaker, painter and photographer, Yinka Shonibare, MBE. The inspiration for Shonibare's upcoming exhibition will be based on Shakespeare's The Tempest and the ideas and people that shaped The Age of Enlightenment.
As in Act One of The Tempest when the curtain opens with "a tempestuous noise of thunder and lightning," the front gallery in the Prospero's Monsters exhibition will be engulfed by a storm at sea and a shipwreck. The main gallery will host a series of five sculpted figures in costume, each accompanied by props relating to their area of knowledge. These figures are the pivotal point around which the show is centred, the crossroads where the themes of The Tempest and the ideas of The Enlightenment meet. The last room will be filled by a series of 5 photographs (60 x 48 inches) based on Goya's famous etching The Sleep of Reason Brings Forth Monsters.
Yinka Shonibare's art is influenced by both the cultures of Nigeria, where he grew up, and England, where he studied and now lives. Upcoming in Fall 2008, Shonibare will have a solo exhibition at the Museum of Contemporary Art in Sydney, Australia that will travel to the Brooklyn Museum of Art, NY. Recently awarded the prestigious, "Member of the British Empire" award, he has exhibited widely throughout the world. Exhibitions in 2007 included the Garden of Love at the Musée du quai Branly, Paris; the Hayward Flag Project at the Hayward Museum in London, and a solo show at the Speed Museum, in Louisville, KY.