Francesco Vezzoli
20 Oct 2009 - 17 Jan 2010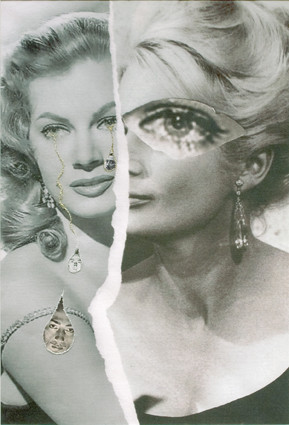 Portrait surréaliste d'Anita Ekberg
(avant et après La Dolce Vita)2008
Francesco Vezzoli
Collection particulière, courtesy Gagosian Gallery
© Francesco Vezzoli 2009
Technique mixte : impression à jet d'encre sur toile, papier et broderie métallique
120,6 x 96,5 cm
FRANCESCO VEZZOLI
"À Chacun Sa Vérité"
from 20 October 2009 until 17 January 2010
To mark the exhibition devoted to Federico Fellini, Vezzoli has decided to present two new works which address the paradoxical status of illusion and fiction in our perception of reality, together with some of the themes that haunt Fellini's work: his fascination with celebrities, the shifts in desire and imaginative slants occasioned by the hegemony of the mass media, and the persistence of myth in social and political life.
The Jeu de Paume auditorium is hosting the "video version" of Vezzoli's performance at the Guggenheim in New York as part of Performa 2007: Right You Are (If You Think You Are) is a reinterpretation of the Luigi Pirandello's Each in His Own Way, with Cate Blanchett, Ellen Burstyn, Natalie Portman, Peter Sarsgaard – in the presence of Fellini muse and icon Anita Ekberg, the unforgettable protagonist of La Dolce Vita. Here Vezzoli transformed the original play – a parable of the impossibility of objective truth – into a meditation on our obsession with fame and the private lives of celebrities.
In the same vein as his work on the relationship between the public and "media truth," the second piece, specially created for the Jeu de Paume, masquerades as an advertising campaign for "La Nuova Dolce Vita," a mysterious exhibition that will never take place. In it an internationally renowned Hollywood star is presented as the glamorous embodiment of this imaginary event, the inaccessible icon of an exhibition replaced by its "communication tools" as pre-publicity morphs into closing credits.
Born in Brescia in 1971, Francesco Vezzoli studied at Saint Martins College of Art in London and lives and works in Milan. He exhibited at the Venice Biennale in 2007 and the Whitney Biennial, New York, in 2006.
An international art figure ever since he started out, Vezzoli has been delving into the media/fame system since the late 1990s, via that contemporary, highly commercial version of pagan godliness embodied by the celebrity.
Exhibition curated by: Francesco Vezzoli and Marta Gili
in partnership with: Evene.fr, Mouvement and
mouvement.net
, Souvenirs from Earth TV and Stiletto