Rosa Barba
22 May - 23 Sep 2012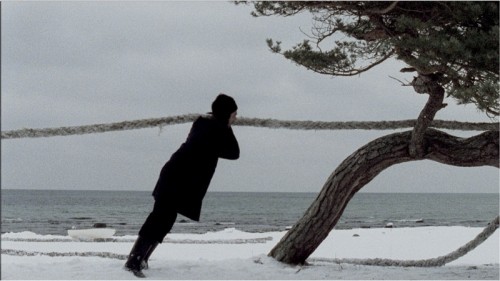 © Rosa Barba
Outwardly from Earth's Center, 2007
Film 16 mm transféré en vidéo, 22 min.
Courtesy de l'artiste, de carlier | gebauer, Berlin, et de Gió Marconi, Milan.
ROSA BARBA
Back Door Exposure
Satellite 5 / Curator: Filipa Oliveira
22 May - 23 September 2012

Cinema is Rosa Barba's language. She creates it, analyses it, researches it and dissects it separating its different parts – such as words, soundtracks, images, and light - and (re)presents them, sometimes isolated from each other. Film, with its limitations as a medium, is transformed into a sculptural and textual object. There is a constant transposition, a continuous flow between being a medium and being the art object, between being content and being form. Rosa Barba is very interested in how film, as a document, relates to reality, how history itself relates to reality. In this sense her films inhabit what seems to be a doc-fiction discourse, questioning itself constantly.

In her installations, such as Invisible Act (2010), we are confronted with the continual transposition of material into image and back again. The projectors become a central moment of the installation, surpassing their ontological purpose and becoming closer to kinetic machines or sci-fi experiments. This idea of exploring the boundaries of the medium is at the core of this artist's practice.

Rosa Barba, Italian, born in 1972, lives in Berlin.