Bridget Bæker
03 - 27 Oct 2007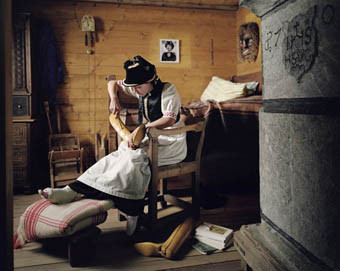 © Bridget Bæker
La fille transparente à Kippel / Das transparente Mädchen in Kippel 2006, Lambda Print and Diasec, 180 X 226.5cm.
Photographer: Daniel Stucki.
BRIDGET BÆKER

3 - 27 October 2007

João Ferreira Gallery presents Bridget Bæker, an expedition of works found in Switzerland 2006 – 2007.

Bridget Baker continues probing, and discovers the progenitor of the Blue Collar Girl in the Swiss Alps: The Transparent Girl.