Jessica Hilltout
28 May - 14 Jun 2010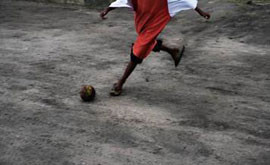 © Jessica Hilltout
Pipeline FC. Beira, Mozambique. 2009
Edition 4, Printed on Innova IFA49 (285g) archival ink jet paper and mounted on aluminium
49 x 74 cm
JESSICA HILLTOUT
"Amen"

28th May - 24th July
Opening reception: 15th June

João Ferreira Gallery presents Belgium Photographer, Jessica Hilltout's photographic exhibition of images capturing rural football around Africa. This body of work was captured in Jessica's 9th photographic travel. Since completing her BA(Hons) at Blackpool College of Art, UK, Jessica has received awards in London and Europe and has exhibited in Brussels, Paris and London.

"I am interested in the poetic character of things, in the small, seemingly unimportant things. There is hidden beauty in the ordinary and great beauty in the overlooked."