William Anastasi
10 Nov - 22 Dec 2012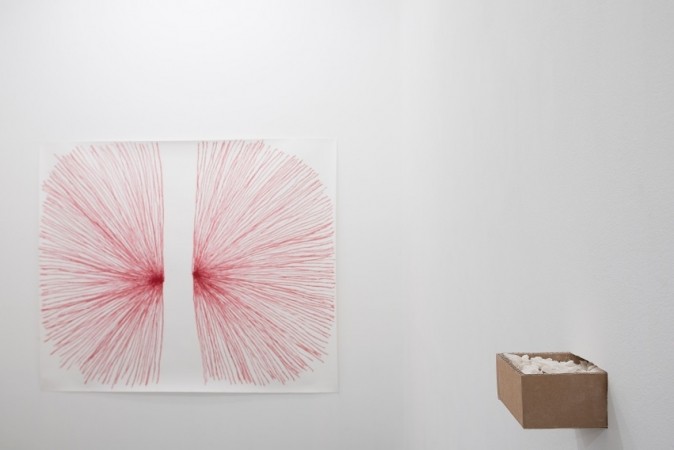 © William Anastasi
Without Title (Blind drawing), Burst drawing, 2012
oil pastel on paper, 150 x 182 cm

Displaced Site, 1966, cardboard, plaster, 6 x 9 x 11 cm
WILLIAM ANASTASI
JARRY : DU/JOY
BLIND DRAWINGS
WALKING, SUBWAY, DROP, VETRUVIAN MAN, STILL
10 November – 22 December 2012

At the occasion of his first solo exhibition at Galerie Jocelyn Wolff, William Anastasi presents a series of «Blind Drawings», some of them produced in situ. One relief, "Displaced Site" (1966) and a sculpture "1904 S.Ninth St. (1964) along with archives, notes and drawings related to his delving into Jarry's effect on Duchamp and Joyce. One can observe how the division between artworks and archives are permeable.
For William Anastasi the starting point is the idea. His ideas typically arrive with a curiosity regarding their realization. His practice merges with the quotidien. After initiating his "Running drawings", series in the 60's, he builds a corpus where drawings accompany his motion ("Walking Drawings", "Subway drawings", "Taxi Cab Drawings", etc.), or organizing a system embracing space for chance ("Drop Drawings"), in coherence with his ethics of the aleatory.
William Anastasi is born in 1933in Philadelphia. He lives and works in New York, where he exhibited with Dwan gallery. He closely collaborated with John Cage et Merce Cunningham. He is considered as one of the main precursors of conceptual art.