Erwin Wurm
The Serious Life of a Ridiculous Man
09 Mar - 21 Apr 2019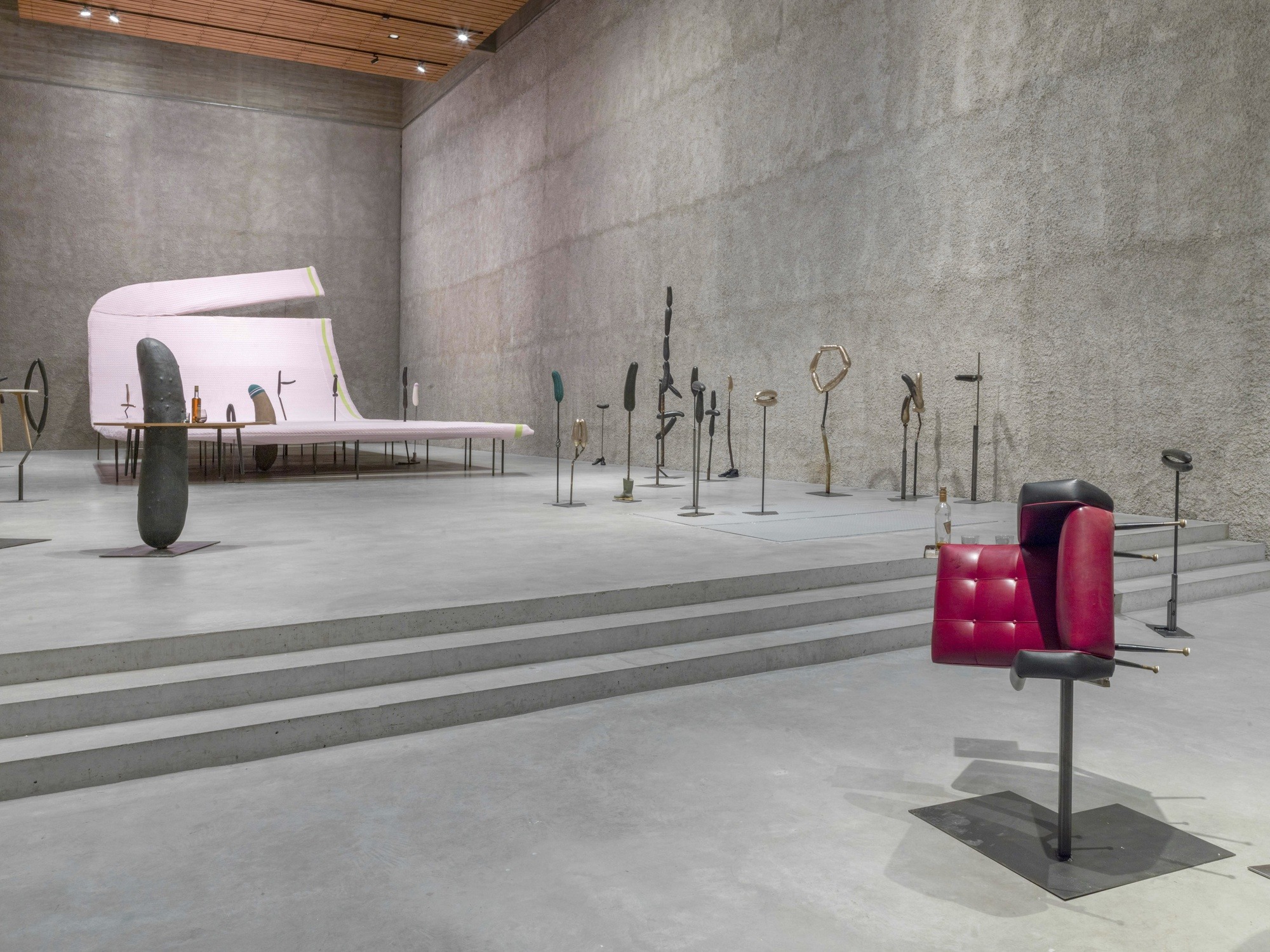 Exhibition view, Erwin Wurm, The Serious Life of a Ridiculous Man, KÖNIG GALERIE, 2019, Photo: Roman März
ERWIN WURM
The Serious Life of a Ridiculous Man
9 March – 21 April 2019
With The Serious Life of a Ridiculous Man KÖNIG GALERIE is pleased to present Erwin Wurm's first solo exhibition at the gallery. It is also the artist's first solo presentation in Berlin since Bei Mutti at Berlinische Galerie in 2016.
The title of the exhibition refers directly to the artist's legendary retrospective The Ridiculous Life of a Serious Man. The Serious Life of a Ridiculous Man at Deichtorhallen Hamburg in 2007. And in his opinion, the world has become no better since then.
Erwin Wurm's latest work, which was developed in situ for the Nave of KÖNIG GALERIE, is a monumental installation. He has created a provokingly surreal and thrillingly absurd situation that integrates several main aspects of his work, namely the paradox as an artistic strategy, the grotesque, the ridiculous, the performative, transformations and estrangements of the everyday, irritation, perversion, critique of consumption and excess, the unceasing questioning of viewing habits and of sculpture itself.
"I believe that pathos in art degrades people, while the absurd allows us to look at the world from a different perspective."
A twenty-meter-long, six-meter-wide, and almost seven-meter-high knitted pullover calmly hovers one meter above the ground. One part comfortably leans against the back wall; it is pulled down by the forces of gravity and appears to have slid halfway across the former church hall. The cable knit sweater is pink—the typical Erwin Wurm pink—and it has a characteristic green hem. Erwin Wurm considers clothing as a sculptural phenomenon, as a second skin and a protective shell. Along with filling the potential volume of a garment, its silhouette is of central importance to him.
Bringing to mind voodoo ritualism, the large body is pierced and penetrated by various cucumber sculptures, which simultaneously also seem to be functioning as stabilisers.
Abstract and novel variations of wiry, fragile cucumber constellations gather in front of the object. Some of them are wearing knitted hats and shoes; some are splendidly golden.
The cucumber as a self-portrait is a recurrent motif in Erwin Wurm's work. He believes they somewhat resemble humans—each cucumber is distinct, but nonetheless distinguishable as a cucumber belonging to a greater whole.
The grotesque scenery is perfected by two human-sized cucumbers along with a dizzying, misemployed leather armchair and a slim, chest high table. They are "Drinking Sculptures", the visitor is invited to join the severe drunkenness. Vintage furniture has been mounted onto the bronze sculptures; they have been transformed into bars on which various spirits and glasses are presented for consumption. The performative act is only completed when the visitor engages in becoming abundantly drunk and simultaneously part of the sculpture.
The artist hereby relentlessly asks whether today's world can only be endured in ecstatic states of intoxication.
One of his word sculptures from the publication "take a deep breath of air and hold it"—created in 2017 for the exhibition "Football-sized lump of clay on light blue car roof" at the Kunsthaus Graz — might contain the answer:
"Doubt lies on hope, hope breathes out."
To wash away the dirt of our time, a purchasable soap will be presented by mid-April as an artist edition. It will be available at
koenig-souvenir.com
.
Erwin Wurm (b. 1954) lives and works in Vienna and Limberg, Austria.
Later this year, Wurm will have several solo museum exhibitions in Marseille, France at Musée d'Art Contemporain; Musée des Beaux-Arts; Musée Cantini and Vieille Charité.
Wurm has twice participated in the Venice Biennale. At the 54th Venice Biennale in 2011, he exhibited his installation Narrow House in the Palazzo Cavalli Franchetti as part of the collaborative event Glasstress, and he returned to Venice for the 57th Biennale in 2017, where he represented Austria.
Wurm's works are included in the permanent collections of major international institutions, including Tate Modern, London; The Museum of Modern Art, New York; Solomon R. Guggenheim Museum, New York; Centre Pompidou, Paris; Albertina, Vienna, and MMK Museum of Modern Art, Frankfurt.