Michal Budny
09 Nov 2012 - 23 Feb 2013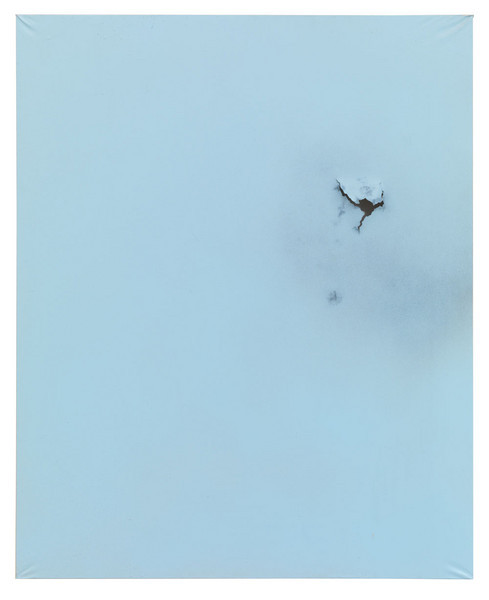 © Michał Budny
Untitled 05 (from Apollo), 2012
paper on wooden stretcher, paint, soot
54 x 44 cm - 21.3 x 17.3 in.
MICHAL BUDNY
Apollo
9 November 2012 - 23 February 2013

"Michał Budny's works are characterised by a precise use of everyday materials. The translation of immaterial, personal memories or subjective emotions is a salient feature here. In this way, minimalist objects come into being and duly establish an abstract, parallel world, which, penetrating the quotidian, opens up a view of the poetic and the existential." (Vanessa Joan Müller, Kunstverein für die Rheinlande und Westfalen, Düsseldorf)
In his current exhibition at Johnen Galerie entitled Apollo, Michał Budny creates a floating and drifting atmosphere. Nacreous, shimmery objects made of various layers of plain papers emanate just as much energy as to inspire a sense of volume, space and lightness in the viewer. Budny's works are not overpowering, they do not tell stories but rather decelerate perception by creating an open, energetic field where the observer does not reach solid ground.

Michał Budny was born in Leszno, Poland, in 1976. His works have been shown in numerous exhibitions: Pinchuk Art Centre (Kiev, 2012), National Gallery of Art (Vilnius, 2012), Kunsthalle Nürnberg (2012), Kunstmuseum Stuttgart (2011), Kunstverein für die Rheinlande und Westfalen (Düsseldorf, 2011), Neuer Kunstverein (Vienna, 2011), Museum of Modern Art (Warsaw, 2009), Museum of Art (Łódź, 2006), National Gallery of Art (Warsaw, 2005), Center for Contemporary Art (Warsaw, 2004).

On 9 November 2012, Johnen Galerie opens its fourth solo exhibition with Michał Budny.

Michał Budny lives and works in Warsaw, Poland.