Prabhavathi Meppayil
17 Sep - 15 Nov 2014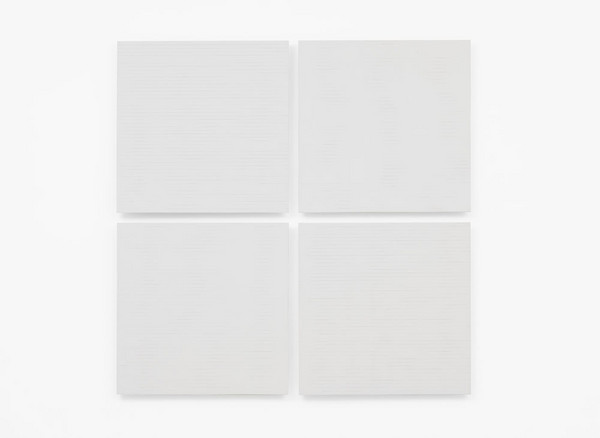 © Prabhavathi Meppayil
BerlinSeptember/Five, 2014
copper wire embedded in lime gesso panel
4 parts 60,9 x 60,9 x 3,8 cm - 24 x 24 x 1.5 in. each
PRABHAVATHI MEPPAYIL
berlinoneseven
17 September - 15 November 2014

At the exhibition Il Palazzo Enciclopedico at the 2013 Venice Biennale, the wider public had for the first time the opportunity to encounter the works by the Indian artist Prabhavathi Meppayil. In the exhibition, surrounded by sometimes obsessive, fantastical works, Meppayil's art offered a moment of freedom, openness, and enlightenment.

The process of Prabhavathi Meppayil's minimalist work draws from the goldsmith tradition of her family. The white pictorial objects made of lime gesso are given rhythm by metal threads made of copper, silver, or gold. They produce a subtle transgression between wall, space, object, shadows, and the lines embedded into the picture plane. In her work, the utopian hopes of Modernism don't just seem to be fulfilled, rather its global conception gets revealed.

In a recent essay about the artist, Benjamin Buchloh writes, 'What makes Meppayil's apparently late-modernist paintings locally specific, historically different, and ultimately incomparable is precisely the acuity with which the artist has recognized this precarious datedness, if not the manifest obsolescence, of all of the utopian promises with which reductivist abstractions had been invested in the course of the twentieth century.'

Prabhavathi Meppayil was born in Bangalore, India, in 1965 and studied Fine Arts at Ken School of Art, Bangalore. Her work was presented at the 55th Venice Biennale in Il Palazzo Enciclopedico (curated by Massimiliano Gioni) and in the past spring at the American Academy in Rome. Recently, Pace London published the catalogue Prabhavathi Meppayil: nine seventeen, with essays by Deepak Ananth and Benjamin Buchloh.

Prabhavathi Meppayil lives and works in Bangalore.