Kishin Shinoyama
10 Oct - 07 Nov 2009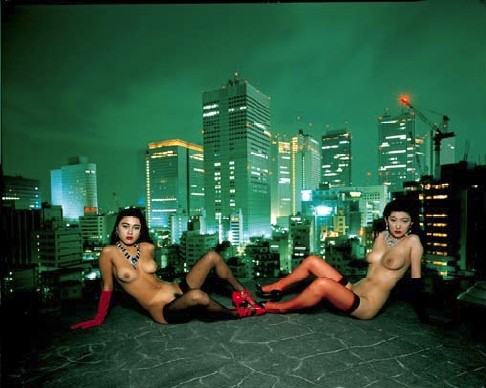 © Kishin Shinoyama
from the book "Tokyo Nude", 1990
KISHIN SHINOYAMA
"Tokyo Nude"
10.10.09 - 07.11.09
Opening: 10.10.09-16-21h
Don't look at the foreground , it is only an aliby.
An excuse to open the eyes.
On our time.
Since five decades, Kishin Shinoyama captures his time and creates controversy.
Kishins nudes have always provoked earthquakes.
Born in Tokyo and Tokyoite to the gleam of his glance, Shinoyama continues his quest. He searches, he probes, he makes himself the mirror of his own megalopolis. He translates, it's mutation. its transformation.
"To express Tokyo, its contemporaneity, a nude woman must pose there. Here the model in the foreground is inorganic. We don't know if it is a human or a replicant. By posing an improbable subject in a precise location, permutation allows to distinguish the obviousness that one could not until see. We seize the face of this city that we only perceive on a daily basis."
Shinoyama just released a new opus in april "NUDE BY KISHIN", 500 pages of nude photography's taken since the last 50 years. One will discover his first pictures shot when he was still a student, to his very last serie "NO NUDE". A fulgurating pallet of nudes in random order. An explosion.
as a premier, the gallery JOUSSE ENTREPRISE presents "TOKYO NUDE".
"This exhibit and this new book have nothing of a retrospective neither of nostalgia to a previous work.
Here, the nude is no longer nude". From pop to purity, vulgarity, humidity, kitch, sophistication, desire and spirituality combine.
A disproportionate accumulation that exceeds nude photography. " This is why I call all my new series NO NUDE"
A rare and singular climate that expresses a certain aggressivity, an intensity of expressions opposed to one another meet up to decode the movement of time, this time the goes by at an incredible speed Is it a challenge to the traditional definition of nude.
Shinoyama uses a mirror, the nude, to fix the desires of his society and his time. The aim is swifter than words.
Eko Sato