Matthew Darbyshire
12 May - 30 Jun 2012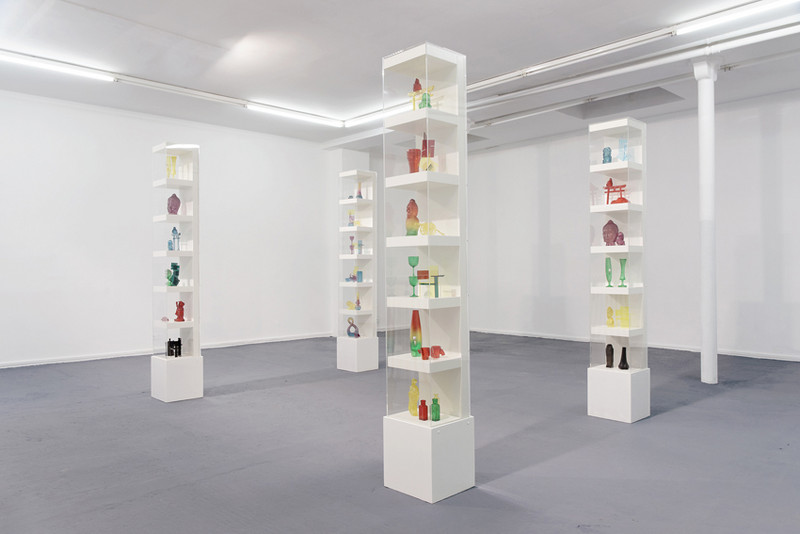 © Matthew Darbyshire
Untitled: Accessorised Column No. 11 - 14, 2012
plastiques, verre, chrome, resine, étagères, et plexiglass.
215 x 30 x 30 cm
MATTHEW DARBYSHIRE
12 May – 30 June 2012

Jousse Entreprise Gallery is delighted to invite you to the opening of the first solo show in France by the British artist Matthew Darbyshire. Saturday 12th May from 4pm to 9pm. Visuals of the exhibition are available on request at the gallery.
The London-based artist Matthew Darbyshire was born in 1977 in Cambridge, UK and studied under acclaimed sculptor Phyllida Barlow at the Slade School of Art before completing his training at Londons Royal Academy Schools in 2005.
Likened to a more devilish Pierre Bourdieu, in Daryshires works taste is the bait and class the snare. Referring to the everyday objects that surround us as "evidence", his forensic examinations of what appear to be harmless, optimistic and patriotic designlifestyle products expose a dismal reality of cultural prejudice, insatiable aspiration, misguided ideology, outmoded bigotry and pick n'mix faith tendencies. By adding no more material to the world other than a call for observation, Darbyshires works turn shop-bought domestic comfort into fertile seeds of doubt and discontent, suggesting dissensus might in fact be a more productive register than consensus.
Blades House, his installation at London's Gasworks in 2008, brought his research into focus and he has since then exhibited at London's Tate Britain, Hayward and ICA galleries; Glasgows Tramway gallery; Barcelona's Fundacion Miro and Bangkoks BACC. This year Darbyshire will present solo exhibitions at the Zabludowicz Collection (London, UK), Kettles Yard (Cambridge, UK), and FRAC Nord-Pas de Calais (France), and next year at Bloomberg Space (London, UK).
By reflecting upon old, new, national and international movements in art, architecture and design, Darbyshire hopes to identify some of the forces which affect our tastes, and influence the look and feel of where we live.