Alexander Calder
07 Sep 2013 - 12 Jan 2014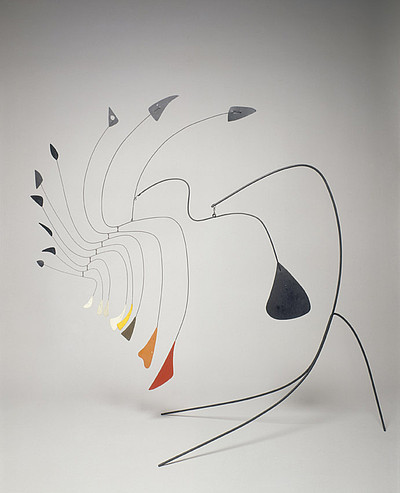 Alexander Calder
Little Spider, ca. 1940
111,1 x 127 x 139,7 cm
National Gallery of Art, Washington, Gift of Mr. and Mrs. Klaus G. Perls, © 2013 Calder Foundation, New York / Artists Rights Society (ARS), New York, photo: Image courtesy of the National Gallery of Art, Washington
ALEXANDER CALDER
Avant-Garde in Motion
7 September 2013 - 12 January 2014

Curator: Susanne Meyer-Büser

From September 2013, the Kunstsammlung Nordrhein-Westfalen in Düsseldorf will stage a comprehensive exhibition on the work of Alexander Calder, one of the most important American artists of the 20th century. It is the first time in two decades that the Kunstsammlung has put on a large-scale exhibition by this important sculptor, who shaped art history with his sensual and poetic sculptures. The focus for the selected works will be the 1930s and 40s and will concentrate on Calder's development of abstract sculptures moved by air currents, the mobiles. During this period, the artist experimented with various artistic directions. His works fell into the gap between Piet Mondrian's geometric images and the playful abstract work of Joan Miró and Hans Arp.

To document Calder's links to European avant-garde art and to enable us to look at the American artist's works in a new and often surprising light, the exhibition includes historical and experimental films, avant-garde music and works by the most important of his fellow artists. In an exhibition covering more than 1,600 square metres, the visitor can admire a magnificent selection of works by Alexander Calder, on loan from international museums and collections.

Alexander Calder – the Avant-Garde in Motion is on show at the Kunstsammlung Nordrhein-Westfalen, in two large exhibition halls at the K20 Grabbeplatz in Düsseldorf. In the Klee Hall the visitor will experience Calder's early sculptures – set against works by trend-setting fellow artists, such as Mondrian, Miró and Arp, as well as artistic and documentary films. In the high Grabbehall, by contrast, the large mobiles and stabiles will be exhibited to impressive effect by allowing the individual shapes to move freely. Here the visitor can experience how the artist makes playful use of space and proportions. At various points throughout the exhibition, Calder's mobiles enter into a dialogue with experimental music dating from the 1920s onwards, ranging from compositions by Edgar Varèse to those of John Cage. This illustrates how Calder constantly sought inspiration from other branches of the arts and broadened his own horizons.