Claude Lévêque
14 Oct - 26 Nov 2011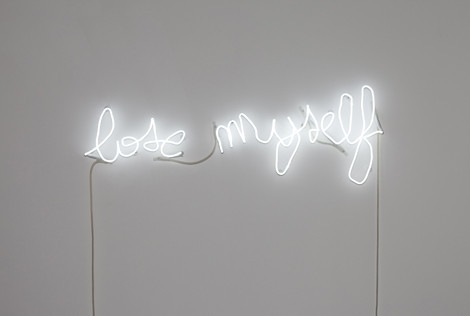 Claude Lévêque
Lose Myself, 2011
Neon
32 x 100 cm
© ADAGP Claude Lévêque.
Photo. Fabrice Seixas
Courtesy the artist and kamel mennour, Paris
CLAUDE LÉVÊQUE
Basse Tension
Sound conception in collaboration with Gerome Nox
14 October – 26 November 2011

For his second solo exhibition at galerie kamel mennour, Claude Lévêque is showing a new project in the form of a triptych: an enigmatic journey within a light and sound installation, between shadow and light, severity and intensity.
Three rooms, three different atmospheres – yet all bathed in a muted, barely visible light. The sun has disappeared, and a generator-powered artificial moon has stepped in, shining its pale beams. A sort of anti-light, just as there is supposed to be anti-matter in other space-time dimensions. We are faced with a world of contrasts, where the greatest purity started with dirt and toxic dust. An almost black-and-white world, which the once fiery hope of candles is no longer capable of warming. An enclosed world, where doors close and windows open onto wastelands. We wander among the ruins and shards of glass, while black rain falls with a monotonous screeching. This world is inhabited by invisible ghosts. There is someone who has experienced sleepless nights. Further on, a prima ballerina's fall provokes mocking laughter from bovids who believe themselves to be free. Everything exudes entropy, dereliction and disintegration.
"Basse Tension" is the world that is found at the end of the road. A world where there is just enough electricity to keep us alive. But for how much longer?
Born in Nevers (France) in 1953, Claude Lévêque lives and works in Montreuil and Pèteloup (France).
His work has been shown in numerous solo and group exhibitions, both in France and abroad: at the Centre Pompidou in Paris, the Musée d'Art moderne de la ville de Paris, the CAPC/Musée d'Art contemporain in Bordeaux, the Consortium in Dijon, the Musée d'Art moderne et contemporain in Strasbourg, the Centre international d'Art et du Paysage in Vassivière, the Villa Medici in Rome, the Joan Miró Foundation in Barcelona, the PS1 Museum and the Guggenheim in New York, the Mori Art Museum in Tokyo, the Hamburger Bahnhof Museum Fur Gegenwart in Berlin, the Casino in Luxembourg, the National Contemporary Art Museum in Moscow, MAMCO in Geneva; as well as at various biennial and triennial events such as the Echigo Tsumari Triennial in Japan, the Jerusalem Biennale in Israel, and the Busan Biennale in South Korea.
In 2009, Claude Lévêque also represented France at the 53rd Venice Biennale.