Jake & Dinos Chapman
Back to the End of the Beginning of the End Again
14 Oct - 26 Nov 2016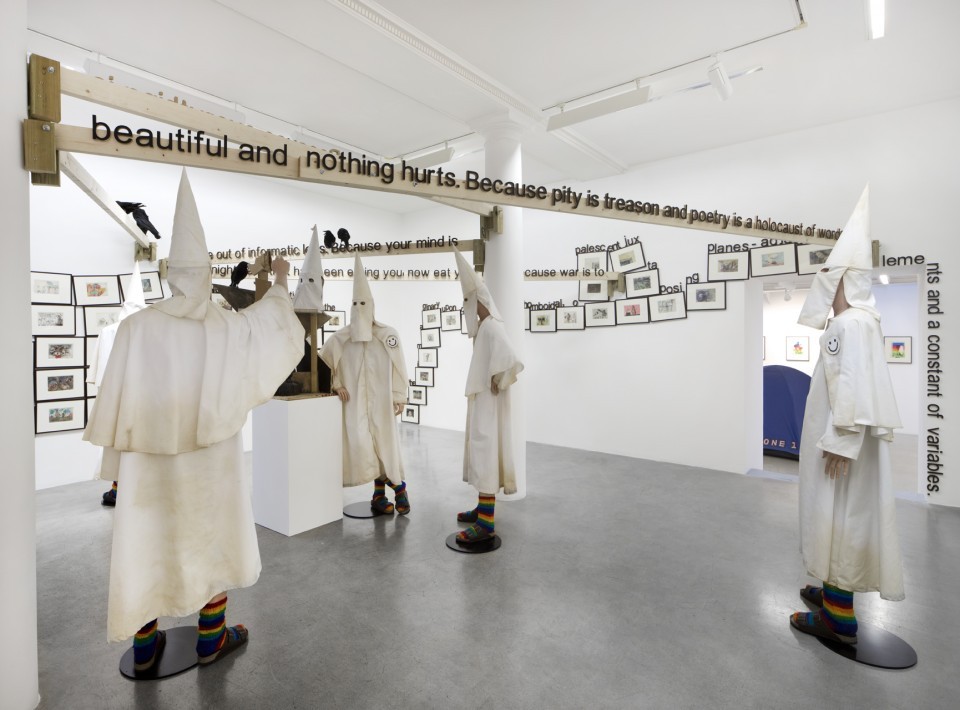 View of the exhibition "Back to the End of the Beginning of the End Again", kamel mennour (47, rue Saint‐André des Arts), Paris, 2016
Photo. Julie Joubert & archives kamel mennour
Courtesy the artist and kamel mennour, Paris/London
JAKE & DINOS CHAPMAN
Back to the End of the Beginning of the End Again
14 October - 26 November 2016
After seventeen years, British duo Jake and Dinos Chapman are back in Paris. For their first exhibition at kamel mennour, they are taking over the gallery on the Rue Saint-André des Arts together with the new space on the Avenue Matignon, with a series of especially explosive works, where the fates of art and humanity appear inextricably linked.
On the 24th of May 2004, their sculpture Hell (1999-2000) went up in smoke when the Momart warehouse in East London caught fire. Hell had been a colossal undertaking, including nine glass display cases laid out in the shape of a swastika, for which almost 10,000 figurines—for the most part Nazi soldiers and officers undergoing the eternal torments of Hell, in the true, punitive tradition of the Middle Ages—had had to be made. 'We just laughed: two years to make, two minutes to burn', the brothers remarked with fatalistic detachment when recalling the exact moment they found out what had happened to their work.
Back to the End of the Beginning of the End Again (2015) follows directly on Hell. Here a large Ferris wheel has been taken over by a horde of Nazi zombies in the midst of devouring one another. One gets the strong impression that this wheel of misfortune is destined to turn with its infernal rhythm until the end of time. The Chapman brothers' deep sense of the circularity of history is reflected in their on-going recycling of previous work, particularly their own. At the base of the wheel, childishly constructed dinosaurs recall the monumental sculptures exhibited in the courtyard of the Royal Academy in 2007, while at the ticket booth, one can make out four members of the Klu Klux Klan—the same hooded characters that could be found life-size in their sculpture Peephole (2013).
But the Chapman brothers also recycle the work of other artists, 'cannibalising' them in a certain sense. A number of works were consumed on that fateful day in 2004, including Tracy Emin's famous Everyone I Have Ever Slept With (1963-95). The brothers reconstructed it, not without a sense of humour, in a piece called The Same Thing Only Better (2010). They have also had a go at Jeff Koons in Death II (2004), a giant bronze sculpture modelled on two inflatable sex toys, with the figures lying astride an air mattress in the '69' position. The Chapman brothers have also 'remastered' Goya's iconic series of engravings Los Desastres de la Guerra [The Disasters of War], and they have embedded their works alongside those of Philip Guston, Jean-Michel Basquiat, and Pablo Picasso in images of the apartments of major collectors (in their series Living with Dead Art, 2014). Recycling haunts their work in the broadest possible way, running the gamut from homage to pastiche.
Without a doubt, Jake and Dinos Chapman do not believe in progress. This 'back to the end of the beginning of the end' somewhat irreverently evokes the dark forces of which human beings appear to have made themselves into the rather consensual toys. From Cain and Abel to today's wars in the Jake & Dinos Chapman's 'Back to the End of the Beginning of the End Again' is accessible from Tuesday to Saturday, 11 am to 7 pm, at the 47 rue Saint-André des arts, Paris 6, and from Monday to Saturday, 11 am to 7 pm at the 28 avenue de Matignon, Paris 8. For further information, please contact Marie-Sophie Eiché, Jessy Mansuy-Leydier, Rolla Wazni, and Emma-Charlotte Gobry-Laurencin by phone: +33 1 56 24 03 63 or by email:
galerie@kamelmennour.com
Paris 6 47 rue Saint-André des arts 6 rue du Pont de Lodi Paris 8 28 avenue Matignon London W1K 4HR 51 Brook Street +33 1 56 24 03 63
www.kamelmennour.com
JAKE & DINOS CHAPMAN Back to the End of the Beginning of the End Again 47, rue Saint-André des Arts, Paris 6 October 14 - November 26, 2016 & 28, avenue Matignon, Paris 8 October 20 - November 26, 2016 Middle East, their work takes aim at the endurance, even aggravation, of evil. Generations follow one another and human beings fundamentally do not improve (which is no doubt the reason why a prehistoric tribe of cannibals has set up its barbeque at the foot of the Back to the Beginning... wheel). Almost twenty years after their debut among the Young British Artists (becoming established with the exhibition 'Sensation' in 1997), the Chapman brothers have definitely not quietened down, and the world has become even more horrible. It would be tempting to say: the same thing, only worse... But against the power of death—fuel for the eternal return of mass murder—they bring the joyful and inexhaustible energy of creation. Theirs is a sort of whirlwind, a perpetual movement capable of transmuting the darkness of our time into massive, saving laughter. It's probably the only stand worth taking faced with the way the world is going.
Jake Chapman was born in 1966 in Cheltenham, Dinos Chapman in 1962 in London. They have exhibited extensively, including solo shows at Magasin III – Museum & Foundation for Contemporary Art, Stockholm (2016), Brandts Museum, Odense (2015); Serpentine Sackler Gallery (2013); DHC/ART Fondation, Montreal (2013); PinchukArtCentre (2013); the State Hermitage Museum, Saint Petersburg (2012); à la Fondazione Museo Pino Pascali, Polignano a Mare, Italy (2010); Hastings Museum, UK (2009); Kestner Gesellschaft Hannover (2008); Tate Britain, London (2007); Tate Liverpool (2006); Kunsthaus Bregenz (2005); Museum Kunst Palast Düsseldorf (2003); Modern Art Oxford (2003); and PS1 Contemporary Art Center, New York (2000). Group exhibitions have included the Yokohama Art Museum (2016), Bourdelle Museum (2015), Triennale di Milano (2015), Institute of Contemporary Arts, London (2014), Fitzwilliam Museum, Cambridge (2014), Mamco – Musée d'art moderne et contemporain, Geneva, (2014), Tate Britain, London (2013), Hirshhorn Museum & Sculpture Garden, Washington (2013), 1st Kiev Biennale (2012), 4th Moscow Biennale of Contemporary Art (2011); 17th Biennale of Sydney (2010); Meadows Museum, Texas (2010); 'Rude Britannia' at the Tate Britain (2010); Bundeskunsthalle, Bonn (2010); National Center for Contemporary Art, Moscow (2009); Kunstverein Hamburg (2009); British Museum, London (2009); Palais des Beaux Arts de Lille (2008); Haus der Kunst, Munich (2008); Institute of Contemporary Arts, London (2008); 'Summer Exhibition' at Annenberg Courtyard, Royal Academy of Arts, London (2007); 'ARS 06' at Museum of Contemporary Art KIASMA, Helsinki (2006) and Turner Prize at Tate Britain (2003).