The Commodification Of Love
07 Sep - 08 Oct 2017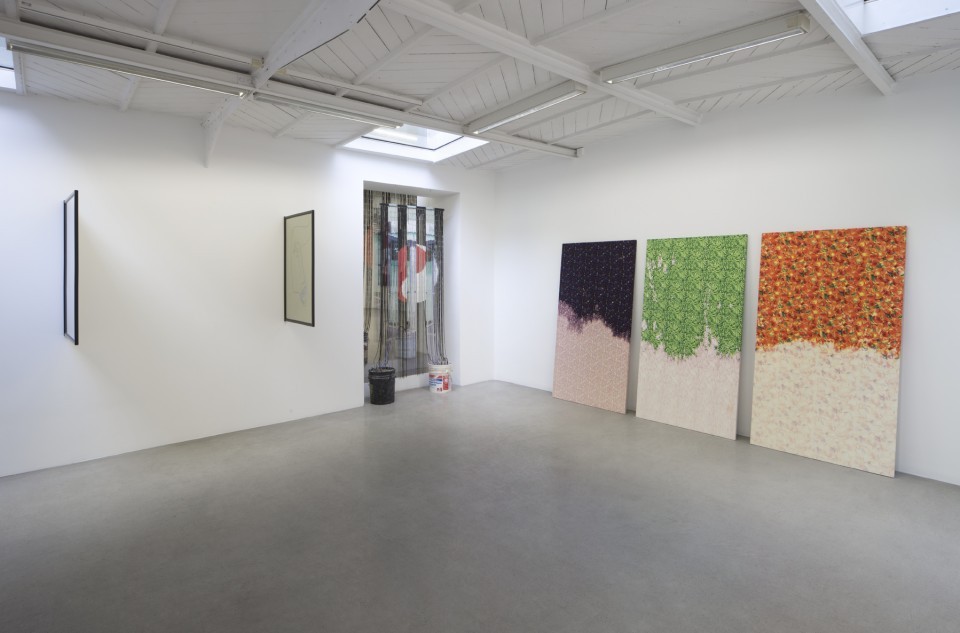 View of the exhibition "The Commodification of Love", curator: Cloé Perrone, kamel mennour (47 rue Saint‐André des arts), Paris, 2017
Photo. archives kamel mennour
Courtesy the artists; kamel mennour, Paris/London; Office Baroque, Brussels
THE COMMODIFICATION OF LOVE
Antoine Catala, Catharine Czudej, Cécile B. Evans, Camille Henrot, Ingo Niermann and Alexa Karolinski, Pakui Hardware, Lili ReynaudDewar, Avery Singer and Anna Uddenberg.
7 September - 8 October 2017

Curated by Commissaire : Cloé Perrone

Kamel Mennour is proud to present "The Commodification of Love", a show curated by Cloé Perrone.

In the digital era, when goods are delivered to our doors with a single click, we are increasingly consuming technology. The distinction between analog and digital worlds has become narrower as in both realms people continue to consume in a fast-paced environment. The expansion of life on the web, which coincided with the development of both new technology and neo-liberalism, has made it possible to standardise and rate experiences. Feelings have found space on the digital market, a market that trades not only in goods but also in social recognition, awareness, and emotions.

Feelings and sentimental relationships have started to depend on devices; we communicate and expand these connections through them. In a world where chance encounters are more unlikely, how do we look for new ones? Although we think and live more independently, we still feel the need or pressure to share our lives with a better half. What is the role of love? How do we define it? How do we look for it?

If we accept that the goal is still to find love, we are also aware that the tools for attaining it have evolved. As the romantic perception of love has shifted towards a more pragmatic vision, we are now able to demand and offer love on a regulated market, which is also a result to the creation of dating application systems. Finding love has never been easy, and, even though today it is simpler to meet and stay connected with new people, getting the love we are after is still hard. Access to more people doesn't shorten the search for love; the increase in possibilities might actually make the selection of the desired person more complicated. The magical moment of matching is what makes the search for love and matching platforms so exciting.

Nowadays, the dating mechanism also rests on the idea that computers rationalise the market by removing inefficiency. The emotion market is supposed to provide love and happiness but doesn't always achieve this. The idea that new technologies are able to create a perfect delivery system for human desire might set daters up for disappointment. The creation of virtual spaces designed to make for perfect encounters empowers new emotions and reactions. In addition, the complexity of managing different profiles obliges love searchers to modify their technological linguistic skills and tools. They have to keep up with the transformation of communication, as written and verbal exchanges take place at a higher speed and in a more fragmented manner.

Pakui Hardware's neon sign, Still in the Dark, and Camille Henrot's Dawg Shaming phone sculpture along with her drawing series Skype Sex address the difficulties of sending and receiving the correct messages. Technology accelerates written exchange and sometimes distorts its meaning; the artworks accentuate the frustration that comes with this misinterpretation. Avery Singer's portraits and Anna Uddenberg's Transit ModeAbenteuer pose remind us of the demanding physical and mental states we encounter while creating and dealing with our profiles. Catharine Czudej actualises the feeling of entering into new unknown spaces; Lili Reynaud Dewar abstracts the moment of falling in love. Solitude and identity awareness are materialised in Antoine Catala's videos Bedroom, New Feelings and his gaming table, Insecure Attachment, while Cécile B. Evans' A man in progress alludes to the continuous or progressive reinforcement of a particular framework of expression or gesture. Ingo Nierman's and Alexa Karolinski's video The Army of Love presents new possibilities of giving love, its new definition and its distribution.

ANTOINE CATALA Born in 1975 in Toulouse (France). Lives and works in New York (USA). Inspired by television and the Internet, Catala plays with the technological accident and language imperfections. His works have been exhibited at MAC Lyon, Carnegie Museum of Art, Hirshhorn Museum, Whitney Museum, New-York.

CATHARINE CZUDEJ Born 1985 in Johannesburg (South Africa). Lives and works in New York (USA). Czudej's work encompasses sculptures, installations, paintings and films which reflect her opinion on labor, power dynamics and moral structures. Her art is characterized by its humor and absurdity.

CECILE B. EVANS Born 1985 in Cleveland, Ohio (USA). Lives and works in London (UK). In her installations, videos and online platforms or performances, Cécile B. Evans addresses the value of emotion in our society and the impact of technology on our behavior. She has recently exhibited her work at galerie Emanuel Layr, Vienne, TateLiverpool, Kunsthalle Aarhus, Kunsthalle Winterthur, Kunsthalle Winterthur.

PAKUI HARDWARE UGNIUS GELGUDA Born 1977 in Vilnuis (Lithuania). Lives and works in Berlin (Germany).

NERINGA CERNIAUSKAITE Born 1982 in Klaipeda (Lithuania). Lives and works in Berlin (Germany). Pakui Hardware is a collaborative duo formed by Neringa Cerniauskaite and Ugnius Gelguda – two Lithuanian artists who have been exploring the relationship between materiality, technology and economy. Pakui Hardware exhibited their works at venues like the National Gallery of Art in Vilnius, the Viennese mumok and Tallinner Kunsthalle.

CAMILLE HENROT Born in 1978 in Paris (France). Lives and works in New-York. Henrot's diverse practice combines film, drawing, and sculpture. Her current research, focusing on the days of the week, develops in several chapters - the first one, Monday, being exhibited at Fondazione Memmo, Rome, in 2016, and the second one, Tuesday at Kunsthalle Wien in 2017. The whole research will be the subject of a "Carte Blanche" at Palais de Tokyo, Paris, in October 2017.

INGO NIERMANN Born in 1969 in Bielefeld (Germany). Lives and works in Basel (Switzerland). Ingo Niermann is a writer, journalist and artist. His work is part of post-modern, utopian and pop literature movements.

ALEXA KAROLINSKI Born in 1984 in Germany (Germany). Lives and works in Los Angeles (USA). She is a documentary and movie maker. Her films are screened at museums. The collaborative duo has presented The Army of Love at La Biennale de Berlin in 2016.

LILI REYNAUD-DEWAR Born in 1975 in La Rochelle (France). Lives and works in Grenoble (France). Trained as a dancer, then an artist, Lili mixes the two practices in her work, composed of filmed performances and sculpture. As a feminist, she carries out a critical work, that is as radical as her work. Her works has been display in numerous solo exhibitions : at the Kunstverein Hamburg, at the New Museum in NYC, the Index Fondation for Contemporary Arts in Stockholm, the Consortium of Dijon, 21er Raum – Belvedere in Vienna.

AVERY SINGER Born 1987 in New York (USA). Lives and works in New York (USA). Her paintings are characterized by an extraordinary and destabilizing technical and iconographic work, mixing painting, printing and sculpture. She has exhibited at Kolnischer Kunstverein, Köln, Secession, Vienna, Stedeljik Musem, Amsterdam, Hammer Museum, Los Angeles.

ANNA UDDENBERG Born 1982 in Stockholm (Sweden). Lives and works in Berlin (Germany). Anna Uddenberg's body of work surveys body culture, spirituality and self-staging, examining social codes within consumer culture as they relate to class, gender and sexuality. Her work has be shown at Vårbergs Dansservice, Stockholm, Dold Projects, St Georgen, Museum of modern Art in Warsaw.