Accrochage
01 - 22 Feb 2014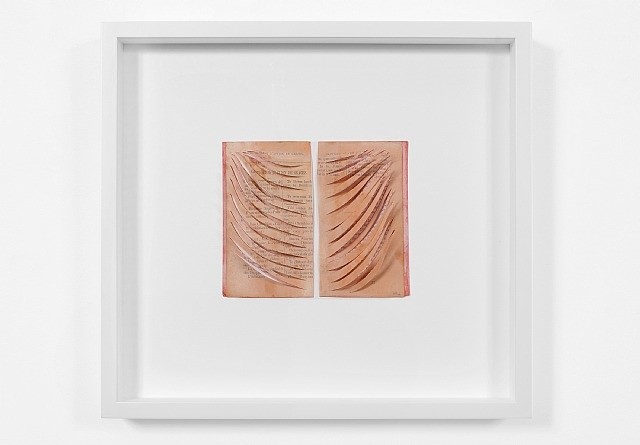 © Georgia Russell (Scottish, b. 1974)
Action de grâces, 2014
Paintings, Livre découpé, encre de Chine, plexiglas / cut book, ink, plexiglass
11.5 x 14 cm. (4.5 x 5.5 in.)
Frame: 30.5 x 33 x 5 cm
ACCROCHAGE
1 - 22 February 2014

Tony Cragg, Yiorgos Kordakis, Robert Mangold, Claire Morgan, Maria Nepomuceno, Ernesto Neto, Norbert Prangenberg, Georgia Russell, Joel Shapiro

Tony Cragg (1949) he works with different materials such as wood, stone, glass and iron. His most recent works present forms which are abstracted and organic at one time, similar to accumulations of strata and volutes. Each change of material represents a new reflection on the formal and expressive limits of the creation.

Yiorgos Kordakis (1973) likes to show the world from the sky, through clouds. In his series Global Summer, more than a simple moment of relaxation or amusement, the artist sees our proximity to water as revealing of our inner nature. The artist shows the social attitudes which are linked to the sites and environments where people live.

Robert Mangold (1937) explores the possibilities of the single element which is involved in the composition. In his engrave and etching on wood and on paper he experiments the limits of the line, of the balance, of the complementary forms. His colored tandems remind of the incongruences of life.

Claire Morgan (1980) realizes suspended sculptures which she also inserts in cabinets. Like treasure chests, those sculptures contain geometrical compositions which are composed of insects, seeds, pieces of plastic and animals which the artist taxidermized herself. The result is a poetic allegory of the ephemeral nature of life.

Maria Nepomuceno (1976) re-uses elements of our daily lives: sisal rope, nylon or string and different colored beads. She recovers them from old curtains made for the navy, or for road transport. These objects from the day-to-day world fit into her works of art to finally become the body of it.

Ernesto Neto (1964) realizes biomorphic sculptures which sometimes surround the public at that point that he is invited to touch them, grab hold of them, or even walk on them. Amorphous shapes that are successively filled with polythene or aromatic spices, these works surround the viewer and fill them with wonder.

Norbert Prangenberg (1949-2012) explores the possibilities of ceramics since the 1980s. This practice coexists with a production of drawings and paintings. His contemporary sculptures made of this ancestral material reminds of an ancient practice, fragile and strong at the same time.

Georgia Russell (1974) gives a new identity to the objects she uses, old books, musical scores or photographs that she chooses for their evocative power. Exploring the anatomy of the found objects like a doctor, exposing them by continuous gestures of the medical scalpel, she creates flamboyant networks and new tactile surfaces.

Joel Shapiro (1941) creates works made of rectangular blocks of wood or bronze which oscillate between abstraction and figuration. Most of his sculptures, standing at times on one leg and at others on two, or lying on the floor or climbing the walls, lead us to associate them with the human figure.