Claire Morgan
08 Sep - 03 Nov 2012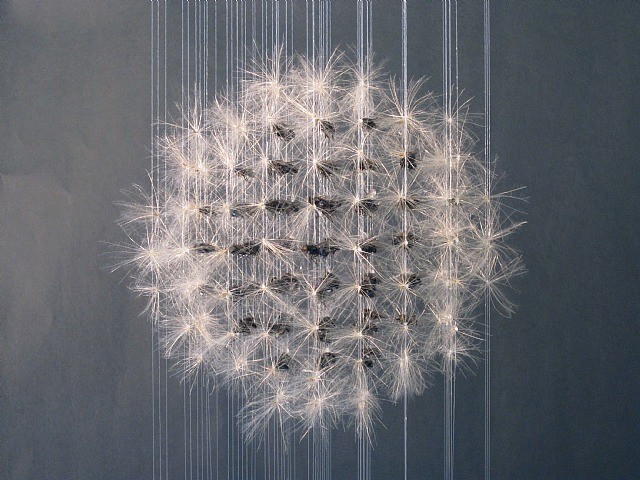 © Claire Morgan
Nipple, 2012
Bluebottles, thistle seeds, nylon, lead, acrylic
26 x 26 x 240 cm / 10.2 x 10.2 x 94.5 in
CLAIRE MORGAN
QUIETUS
8 September - 3 November 2012

Karsten Greve Gallery is pleased to announce the second solo show in France dedicated to Claire Morgan. The show includes an important set of sculpture-installations created for this exhibition, as well as canvases and drawings.

Claire Morgan's work reflects her concern of our desperation, through life and death, to control the world around us. Making particular use of natural processes and organic materials, the artist expresses the scale of impact nature has on us, ultimately resulting in human's existence being only a minute and insignificant fragment of nature's beauty.
"My attention has been drawn to the cheap distractions we choose to place in our immediate vicinity, with which to screen us from the overwhelming facts: that we are nothing; that our only certainty as individuals is a life, of unspecified duration, and then a death", as stated recently by the artist.

QUIETUS is death, or that which causes death, regarded as a release from life, with a calming, soothing effect, serving to suppress or eliminate. It compounds Morgan's ceaseless exploration of the human condition.

The show opens on action with the ad infinitum chaos: the seemingly broken glass and lightness of Under Arrest brings to the fore our arrogance as a species and resultant disregard for the environment.

In Apocalypse Now the flies embody change, death, leading to chaos, unpredictability and repulsion. The army-like form, with it's complexity and reliance on each fragment, illustrates our desire to be part of a group, without really questioning our motives.
A swan is often associated with purity and perfection. Here, in The Colossus, in over 50 000 plastic fragments, it refers to something greater than us, in an overwhelming colourful setting. The action closes on Try Again. Fail Again. Fail Better. Composed of repeating squares in natural and manufactured materials, intersecting although never touching, it brings to mind natural forces, our own actions and behaviour, leading to limited outcomes applied to everyone: birth, growth, learning, making mistakes and death.
With Nipple, the exhibition continues it's cyclical theme. The creamy outer texture suggests something skin-like and corporal, bringing to mind our relationship with our bodies.
The Birds and The Bees is a starting point from which to explore the betrayal of the beauty of physical interaction and all that goes with it, while You Are My Sunshine, originally made for a seaman's mission, essentially a church, focuses on the embodiment of light, the sun and how it relates to peoples understanding of god and thus mortality. The bluebottle embodies the metamorphosis that occurs in its life cycle.

Terminal occupies the final space: it intones ultimately the end of everything – human, action, velocity.

The exhibition also includes a selection of new drawings and canvases. The drawings allow the artist to explore the relationships between the different marks made on a page. At first sketches, becoming more elaborate in terms of scale and complexity, the "blood drawings", as Claire Morgan calls them, show the sculpture in two dimensions, but with traces of the animal involved – touch drawings, spillage of bodily fluids and preservatives from the taxidermy process.
The canvases are surfaces on which the artist has been experimenting very recently; weight is given to the forms through the pure surface, setting in motion the marks of blood and water.

Claire Morgan (1980, Belfast), lives and works in London. She graduated from Northumbria University in 2003 with a first class honours degree in Sculpture and since has exhibited internationally, with solo and group shows in UK and Europe, and museum shows in US and Australia.