James Brown
28 May - 30 Jul 2011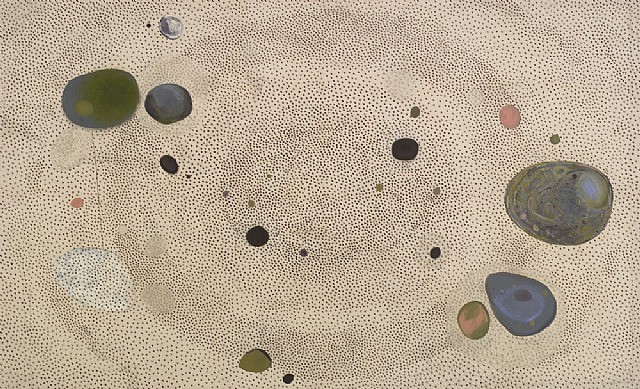 © James Brown
The Realm of Chaos and Light (Part Two), 2009
Huile et crayon sur lin / Oil and pencil on linen
210 x 340 cm / 82.7 x 133.9 in
JAMES BROWN
The Realm of Chaos and Light (Part Two)
28 May - 30 July, 2011

For his second exhibition at the Karsten Greve Gallery, James Brown is presenting the series The Realm of Chaos and Light (Part Two) comprised of large format oil paintings (210 x 340cm) and a selection of ceramics and drawings.
The series, The Realm of Chaos and Light, is the continuation of the voyage begun in 1995 when James Brown moved to Mexico and started to produce various series such as Planet, Planet Pink and Grey, Eclipse. The planet series were clearly inspired by the musical oeuvre "The Planets" by Gustav Holst, composed between 1914 and 1917.
The exhibition will also present a few works from the series The Color Studies and The Color Forms, works created at the same time as the planets and which can be read as colour research. It will in fact be the first time James Brown exhibits his Color Forms publicly.
The richness of the textures results from the intimacy of the colours that have been achieved thanks to the Color Studies. The finely nuanced colour masses revolve in a moving space, organised by a myriad of dots imperceptibly linked by pencil. The combined research on colour and space was likewise initiated in 2002 with Ceramics, wall sculptures that seem to float freely in the space they inhabit. These works on paper can be viewed as a test in form and tension, influenced by chance and intuition.
Navigating from the micro to the macro, James Brown immortalises a reality that is in constant metamorphosis. There is the dimension of time, the things that are becoming, change, the impermeability of things and the dimension of movement: the universe in expansion. His works make up several sequences and invite an exploration of emptiness, drawing the regard to travel over their astronomical cartography as well as discovering their most intimate details and depths.
Born in California in 1951, James Brown has spent his time between New York, Paris and Mexico, where he mainly resides today. He was recognised on the international art scene very early on and has had many important international one man shows in different museums: at the MAGI '900 (Bologna, 2010), at the Ceramics Museum (Leeuwarden, 2009), at the Fisher Landau Center For Art (New York, 2006), at the MACO (Oaxaca, 2004), at the Modern and Contemporary Art Gallery of San Marino (2003), at the Centre for Engraving (La Louvière, 2002), at the Kunst-Station Sankt Peter (Cologne) and the Civic Gallery for Contemporary Art (Trento, 1995).