Florian Meisenberg
18 May - 09 Jul 2011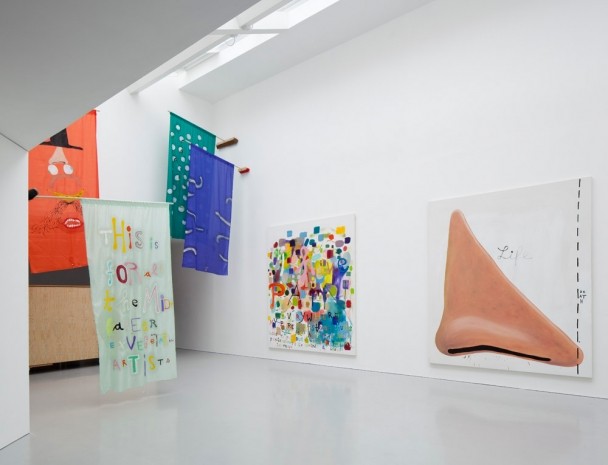 FLORIAN MEISENBERG
http://www.youtube.com/watch?v=90RM07vHQiw
18 May - 09 July 2011
Florian Meisenberg captures something rare in painting: lightness. Things appear weightless, a motley of colourful objects tumble around in a crisp, white space, and the human body is evoked in a pink line as it weaves across the canvas. In Many of the works there is no external frame, and the canvas floats un-stretched like a flag or banner in the sky.
There is nothing superficial about the lightness, it is aspirational, and pensive. Meisenberg is deeply aware of the counterpart to lightness: heaviness - the titles of his work, and the words inscribed across his canvases such as I Have Pain, tell of suffering. In Six Memos for the Next Millennium Italo Calvino tells how he strives to express lightness in his writing: "Wherever humanity seems condemned to heaviness, I think I should fly like Perseus into a different space."
Meisenberg delivers this "different space", an open field where tensions are not resolved, and different states can co-exist. The colours are radiant, and the whole colour spectrum is on display: brilliant blues and sharp, acid yellows play against rosy pinks, and muted greys. The surface has a range of textures: letters are dribbled with thick, globular paint, the human body is rendered with broad, rough strokes, while the backgrounds are translucent.
There is a sense of a natural order: arrangements appear to form freely, heads fall naturally into a pyramid as their shapes fit around each other. In some of his works a sexual gymnastics, or feast, is going on, as body parts, and fluids, merge. The body, sometimes turned inside out, is reminiscent of a Jean Dubuffet's figure; but, unlike the angst ridden Expressionist, Meisenberg is gentle, and playful.
Meisenberg is something of a poet, interested in the mysteriousness of life, in unexplainable forces. He collects appealing colours, and forms, and suspends them in a floating, radiant world.
FLORIAN MESIENBERG born in Berlin, 1980, lives and works in New York.
He graduated from the Kunstacademie Düsseldorf in 2010. Recent exhibitions include Florian Meisenberg at Art Since the Summer of '69, (Kate MacGArry residency), New York, 2011; you can leave your hat on, Gallery Hasen performance at Schmela Haus K20/K21, Düsseldorf; Self-consciousness (curated by Hilton Als & Peter Doig), Veneklasen Werner, Berlin, and Finally! Scientists found out that art is just another hbby! (with C. Lohmann), Tanzschule Projects, Munich, all 2010; The artist as a model of change, the artist as a young clown, Tanja Pol Galerie, Munich, 2009.