Francis Upritchard
07 Sep - 16 Oct 2011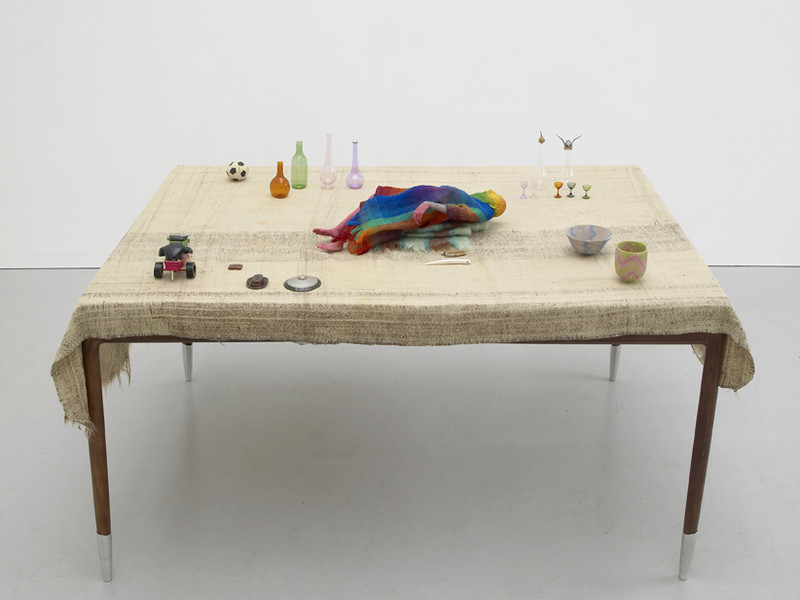 © Francis Upritchard
Weeks Table, 2011
table, blanket, modelling material, wool, wire, paint, glass, found plastic and football and purse
82 x 110 x 160 cm
FRANCIS UPRITCHARD
Echo
7 September - 16 October 2011

Kate MacGarry is pleased to announce Francis Upritchard's third solo exhibition at the gallery.
Central to the exhibit is the human figure and a return to materials explored previously in Upritchard's work. The figures have hollow eyes, so the portal to the individual, to a personal psychology, is sealed off. Upritchard has set a stage for archetypes. The iconic martyr staggers across the landscape of 'Echo Cabinet', and 'Breath' is a kind of psychedelic Jesus, in character with beard and prosaic expression. There are other archetypes too: 'The Misanthrope', the vilified and cruel beast, 'Mervyn' the fool, 'John' the knowing jester.
Gestures are exaggerated, suggesting a common language. 'The Misanthrope', bent over and haggard, epitomises mean-ness. Upritchard refers to the wooden Morris dancers by the medieval sculptor Erasmus Grasser, whose figures revel in wild, contorted poses. In Upritchard's work there is an echo. A connection with post-sixties culture and new utopian music scenes, the modern reveller at the festival or rave.
There is sensitivity to our place in history, and an acknowledgement that today there is no common faith, or a unified community: the fool has no court to amuse, or anyone to listen to his truth. Ultimately, the figures are lonely and comical, like T.S. Eliot's 'Prufrock', who is alienated and mocked in his search for meaning. Handmade bowls are ghostly, faded memories; a translucent wash replicates the colours and pattern of a coarsely woven bowl. But, there is humour in this work too. Two furry camel heads sit on the top of urns with snooty expressions. A necklace of cigarette butts hangs prosaically from a wall. Colour acts as a counterpart to the seriousness. Echoes reverberate between the present and past in an attempt to identify a semblance of shared experience, and make sense of modern life.
FRANCIS UPRITCHARD born 1976 in New Zealand, lives and works in London.
In 2012 she will have solo exhibitions at Nottingham Contemporary; Contemporary Arts Center, Cincinnati and Salon 94, New York. In 2009 she represented New Zealand at the 53rd Venice Biennale; in 2006 she was awarded The Walters Prize, New Zealand's most prestigious award for contemporary art. Recent solo exhibitions include 'Echo', KAdE Kunsthal in Amersfoort, The Netherlands; 'Methusalem', Ivan Anthony, Auckland (both 2011) and 'In die Höhle', Secession, Vienna, 2010. A new publication by KAdE Kunsthal in Amersfoort titled 'Echo' is available from the exhibition.