Hard Rain
24 Oct - 02 Dec 2008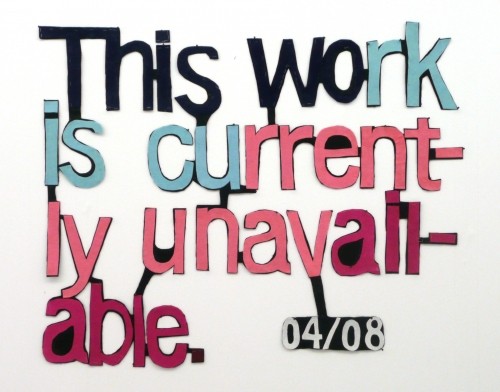 © Danielle Gustafson-Sundell
dear friends, I'm having a baby, 2008
felt, staples, nails and glue
41" x 58"
HARD RAIN

Oct 24 – Dec 2, 2008

Kavi Gupta is very pleased to announce that the gallery is opening an exhibition space in Berlin, Germany. The gallery is located in Mitte on Rosa-Luxemburg-Straße adjacent to other prestigious galleries such as Galerie Kamm, Christian Nagel and Kuttner Siebert. The gallery will host two opening receptions on October 24 and October 29 during Art Forum Berlin with a group exhibition entitled Hard Rain including work by Sayre Gomez, Angelina Gualdoni, Jason Loebs, Melanie Schiff, Tony Tasset and Danielle Gustafson-Sundell.
Referencing the Bob Dylan song A Hard Rain's A-Gonna Fall and the Hard Rain, 2006 photograph by Tony Tasset and Melanie Schiff, the show softly brings to mind multiple issues that plague our current global political and economic situation. The work in this exhibition is quiet and uneasy, imbued with an overwhelming feeling of malaise. A longer perusal reveals the subtle multiple underlying ideas at work that look toward the past as a reflection for answers.