The Craft of Collecting
12 May - 20 Sep 2009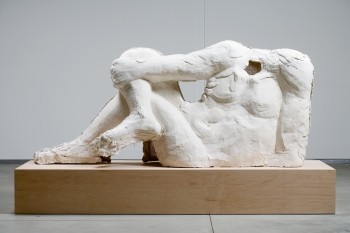 © Thomas Houseago
Untitled, 2008
Courtesy of David Kordansky Gallery, Los Angeles, CA. Photo by Fredrik Nilsen.

THE CRAFT OF COLLECTING

May 12 - September 20, 2009

Annually since 1975, the MCA Collectors Forum, comprised of local collectors and museum supporters, has pooled together their dues to either benefit museum programs, or more recently, purchase an artwork for the MCA Collection. Previous gifts have included works by Jeanne Dunning, Beat Streuli, Gillian Wearing, Carlos Amorales, Abraham Cruzvillegas, TJ Wilcox, and Chiho Aoshima, among many others. The group votes on three final selections at their annual meeting in May and the work with the most votes is acquired into the MCA Collection.
The current exhibition presents the work of the 2009 finalists -- Amanda Ross-Ho, Thomas Houseago, and William O'Brien -- along with other works from the MCA Collection to consider how they relate. When bringing new works into the MCA Collection we always consider how they fit with what we already own and what kind of dialogue they have with these works. This year's group of artists creates an interesting conversation about the role of craft and handmade objects in relationship to figurative sculpture and painting. The Craft of Collecting is curated by Julie Rodrigues Widholm, Pamela Alper Associate Curator.