Ann Oren
Passage
13 Sep 2020 - 21 Feb 2021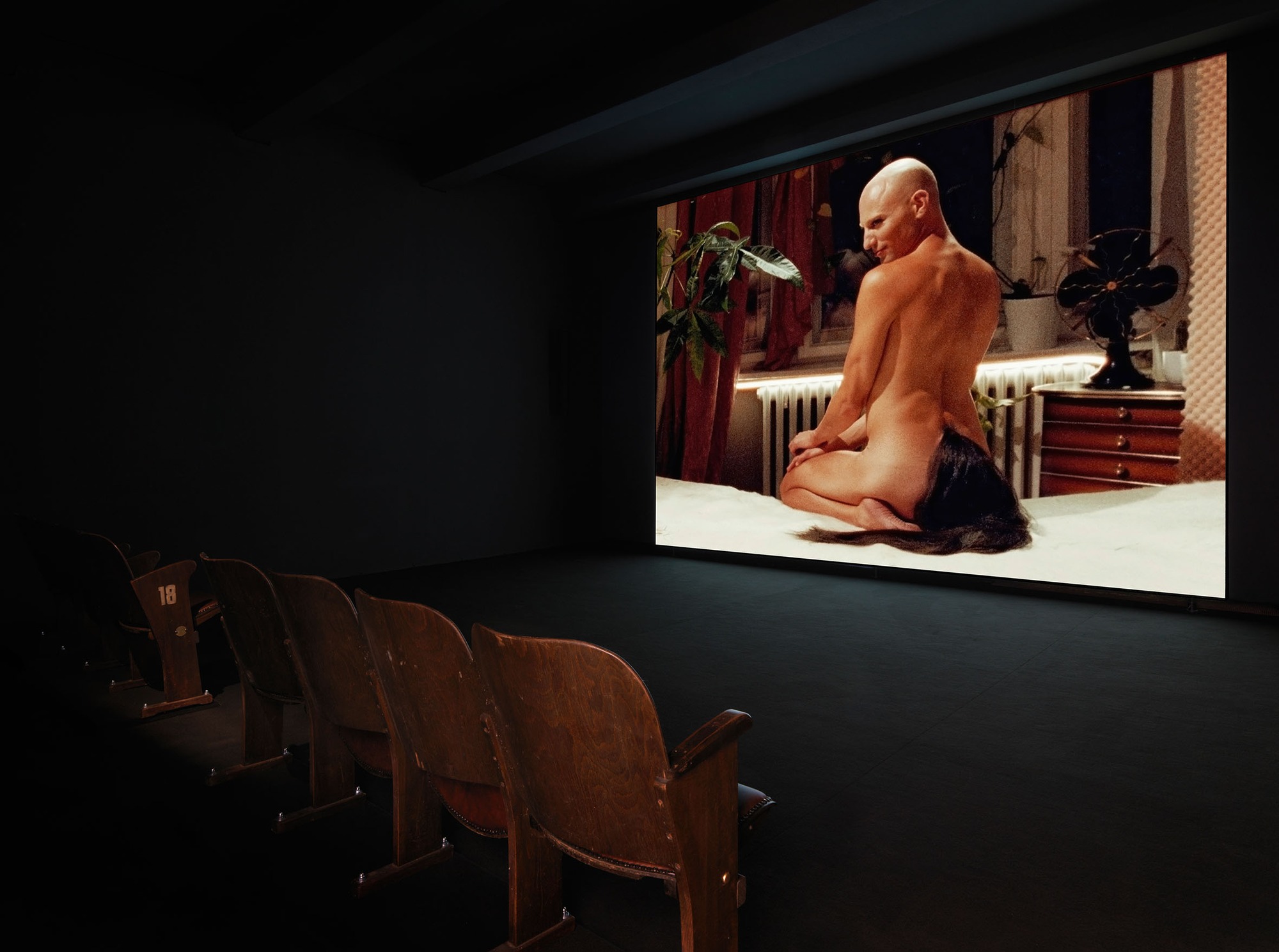 Ann Oren, Passage, 2020, Installation view, Maschinenhaus M1 VideoSpace, KINDL – Centre for Contemporary Art, Berlin, Photo: Jens Ziehe, 2020
The M1 VideoSpace in the Maschinenhaus at the KINDL is a new exhibition space for video and film works by international artists. The space will open with Passage (2020), Ann Oren's latest film.

Passage is about a sound effects artist working on a film featuring a dressage horse. With her film shot on 16mm and transferred to video, Ann Oren presents a portrait of both the horse's body and the sound effects artist, while alluding to Eadweard Muybridge's early film experiments in which he conducted motion studies on racehorses. As the character in the film, played by the gender fluid performer Simon(e) Jaikiriuma Paetau, seems to transform into a gender-defying centaur, the artist reflects on the boundaries between the human and the animal as well as on fictional gender roles and their transcendence.

Oren augments the presentation of the 13-minute film in the M1 VideoSpace with cinema benches re-dressed in leather as well as hay concealed in the room, which add an olfactory and haptic level to the audio-visual experience. Passage thus ties in with the history of olfactory cinema, in which technicians and directors have continually experimented with the possibilities of perception since the beginning of the 20th century.

Ann Oren (*1979 in Tel Aviv) lives in Berlin. Her films and video installations are shown internationally at venues including the Rotterdam International Film Festival and the International Short Film Festival Oberhausen (both 2020), the Tel Aviv Museum of Art (2019), the Künstlerhaus Bethanien in Berlin (2016), the Wro Art Center Biennale in Wrocław (2013), the Moscow International Biennale for Young Art (2010), and the Hammer Museum in Los Angeles (2006).

The exhibition is curated by Kathrin Becker.