Lilibeth Cuenca Rasmussen
13 Mar - 28 Apr 2007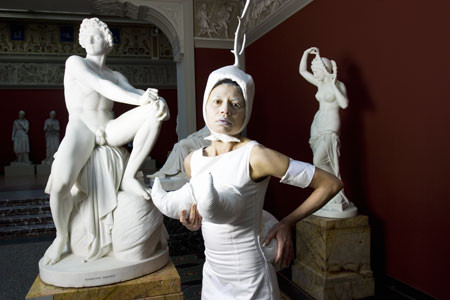 © Lilibeth Cuenca Rasmussen, The Artist's Song, 2007
C-print
90 x 63 cm
Ed. of 5
(still photo from video)
LILIBETH CUENCA RASMUSSEN
"A Void"

Kirkhoff is proud to present Lilibeth Cuenca Rasmussen's solo exhibition "A Void". The opening is on Saturday March 10th from 5-10 pm. The exhibition period is March 13th – April 28th.
During the opening from 5-8 pm, Lilibeth Cuenca will re-enact performances by Piero Manzoni, Yves Klein, Marina Abramovic, Yoko Ono, Ana Mendieta, and others, followed by her latest performance "The Artist's Song". The song is also part of her new film "The Artist's Song" which deals with the different positions and genres in art. Her film will be presented after the performance.
"A Void" investigates the identity of an artist and questions the authenticity of the art work and the history of art. The performance art has been very radical in its transgressions and has expanded the catagories of art. The authenticity of performance art is related to the here-and-now experience. When the performance is over, it can only be experienced through documentation far from the original experience. Even if it is performed again, it will be very different from the original experience, dependent on the artist, the audience, time and context.
Lilibeth Cuenca Rasmussen re-enacts other artists' performances in her own way. The point of departure is identical, but the experience will be completely different. The historical re-enactments will follow each other without precedent announcement as one long performance. They will be documented and shown on video after the opening. Traces of the performances will also be present as drawings and photos.
In the film, "The Artist's Song", the artist sings about (in)famous works from the history of art which have influenced the concept of art, just like the performances quoted earlier. The film also deals with an artist's dream of fame and immortality as an incentive behind the works. The film shows the artist at the museum Glyptoteket in Copenhagen, dressed as a sculpture on a pedestal and surrounded by classicistic sculptures. Her descriptions of the competetive art scene, the various positions, the artist's dreams and ambitions become both general and personal statements. The film is part of Lilibeth Cuenca Rasmussen's work with identity, whether it is nationality, gender, religion or as in this exhibition – the identity as an artist.
Lilibeth Cuenca Rasmussen (b. 1970 in Manila, lives and works in Copenhagen) had a solo exhibition in X-Rummet at Statens Museum for Kunst in 2006, and at Gävle Konstcentrum in Sweden. Furthermore she participated in the Busan and Rauma Balticum Biennales. She was chosen as Artist of the Year 2006 in the year book "Dansk Kunst 06". In 2007 she will participate in "Global Feminisms", Brooklyn Museum in New York, with performance and video.