Armin Linke
09 Jan - 13 Mar 2010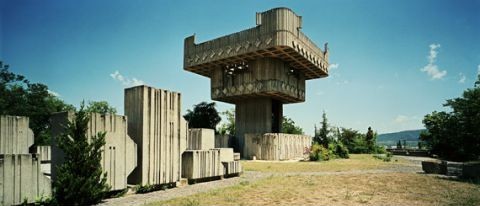 © Armin Linke
Kosturnica, Monument to Local Victims in WWII, Prilep, Macedonia, 2009
photographic print
50 x 60 cm
ARMIN LINKE
"Future Archaeologies"

opening: January 8th 2010, 6 - 9pm
duration of the exhibition: January 9th – March 13th 2010
opening hours: Tuesdays through Saturdays 11 - 6 pm and by appointment

Potsdamer Strasse 93
In his exhibition entitled Future Archaeologies at Klosterfelde Gallery, Armin Linke (b. 1966) presents a selection of new photographs and a 3-D film. Viewing the photographed places and building structures as 'archaeologies of the future', they seem like modern artefacts, stranded and obsolete and subject to slow-fading decay. The notion of archaeology serves to transfer the depicted deserted landscapes into a temporal system – it archives their modernity and projects it into the future.

The specific and irritating about Linke's photographs is that his motifs are bereft of their respective proportion and scale, and thus transferred into a state of spatial neutrality. Seemingly, with the new works a time-scale is entered leading directly from past to future. A cage full of stuffed apes at the Zoological Museum in Florence is the only reference to a time when these places were inhabited and used. The illegal Israeli settlement Har Homa in the West Bank, the claustrophobic interior of the MIR space-station simulator in Moscow, the modernist monument in honour of WW II victims in Kosturnica, Macedonia; the bedsheet serving as an improvised cinema screen in a Chinese village – these are real Science Fiction scenarios, constructed man-made utopias, hurling their absurdities at the viewer. Linke's photographs poetically document globalization effects and complex interrelations of the idea of modernity with inherent structures of violence and colonialism.

The video Nuclear Voyage (2008, 10 mins. 22 secs.) depicts inactive nuclear power stations and waste sites in a state of eternal coma. Observed in long takes during their radiation- and security-checks, the few people still working there stand in marked contrast to the James Bond-like world of high hopes for the future and faith in technology. Filmed and transmitted in 3-D technology, the video also serves as a comment on the current hype regarding spatial viewing of images, the spectacle of which had already been celebrated as photography's great promise in the 19th century with the advent of stereoscopy. Its renaissance today comes as a curious conflation of joyous anticipation of things to come with a dash of melancholia.