Nina Canell, Aleana Egan and Marzena Nowak
06 Feb - 09 Apr 2009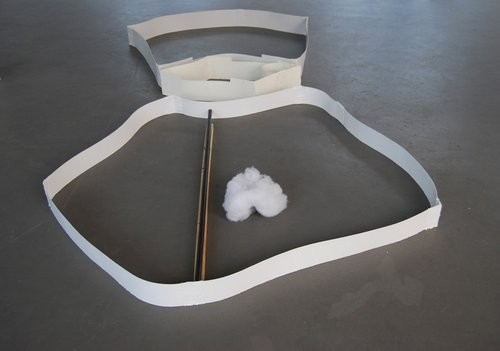 © Aleana Egan
One Vane Can, 2009
cardboard, tape, acrylic paint, deco-fill, steel tube, polyester stuffing, wood
16 x 207 x 220 cm
NINA CANELL, ALEANA EGAN, MARZENA NOWAK

February 6 - April 9, 2009

Opening: Friday, February 6 2009, 6 - 9 pm

KONRAD FISCHER GALERIE is pleased to announce the group exhibition of
Nina Canell, Aleana Egan and Marzena Nowak.

The exhibition introduces three young perspectives, which may remind the visitor of handicrafts or bricolages. Following the idea of Claude Lévi-Strauss (who actually coined the term) "bricolage" describes a predefined reorganisation of instant icons and structures. In this sense, all three artists combine findings they incidentally came across or use apparently unrelated things to form sculptures, installations and images.

Nina Canell (* 1979 in Växjö, Sweden; lives and works in New York and Dublin) undertakes this kind of approach in a pragmatically, down-to-earth way. She combines debris – kitchenware, plastic buckets, bowls and neon tubes – with natural materials such as twigs, fir cones and dirt in a very poetic way. Like in provisional laboratory experiments, Nina Canell amalgamates technics and nature by triggering sounds from boiling water or by creating "tamed" tornados from wall ventilators. Sound and light play an especially important role within Canell's artistic oeuvre and are explored in installations as well as used as topics in videos and compositions.
Aleana Egan (* 1979 in Dublin, Ireland; lives and works in Berlin and Glasgow) mainly employs tinting and bonding techniques to create abstract sculptures, collages and drawings. Quite often her work refers to the actual exhibition space and setting. Aleana Egan takes up architectural details and modifies their formal structures. The elegant wall object "Prospect Terrace", recently shown in her solo exhibition at Basler Kunsthalle, is constructed from cardboard, paint and glue. The work references interior designs by Swiss architect Johann Jakob Stehlin in 1868/72 and – at the same time – Egan's permanent address in Glasgow. The specific focus on her environment is also prevalent in her videos and films.
The confusing network of lines and curves in Marzena Nowak's (*1977 in Piaseczno, Polen; lives and works in Warsaw and Berlin) large size canvases alternates between abstraction and austere form. By using old fashion textiles and patterns Nowak creates references to high art, popular culture, domesticity and challenging constructions of feminity. By tracing the lines onto the canvas she relieves the patterns from their original function and transforms them into abstract constructions. In her video works "Eyelashes" and "Mirror" Nowak uses loops of small body gestures, which assume a mysterious and poetic dimension in her films. These tiny events produce images of great intensity, which touch upon fundamental human experiences.