Stephen Antonakos
24 Oct - 22 Nov 2008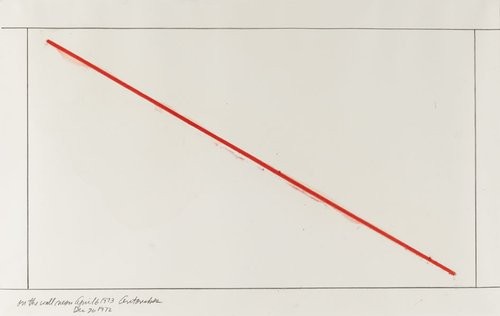 © Stephen Antonakos
On the Wall Neon, Dec.20, 1972 - April 6, 1973
colored pencil, pencil, fixative on paper
35,5 x 55,9 cm
STEPHEN ANTONAKOS
Drawings from the 60s and the 70s

October 24 - November 22, 2008
Opening: October 24 2008, 6 - 9 pm


KONRAD FISCHER GALERIE DÜSSELDORF gladly announces the opening of the exhibition Stephen Antonakos "Drawings from the 60s and the 70s".

Already in the early 1960s, Stephen Antonakos – born 1920 in Greece and raised in the twinkling and flickering atmosphere of New York City – discovered neon light as a media of artistic expression. He put his main focus on the interaction between light, space, architecture and beholder. In his manifold geometrical variations Antonakos formally and emotionally altered and converted specific spaces by installing his neon installations. His drawings must be considered as being more than just preparatory sketches for the large-scale installations: curves, geometrical shapes and fragments are put down on paper with an impressive precision in the same way his neon tubes are accurately placed inside the gallery space. Linearity, luminescence and electrifying colors – being the characteristics of neon installations – are coining the oeuvre of Stephen Antonakos. His neon installation "Red Neon Incomplete Square" of 1975 will complete the selection of drawings in this retrospective exhibition.