Max Neuhaus
17 Sep - 08 Nov 2014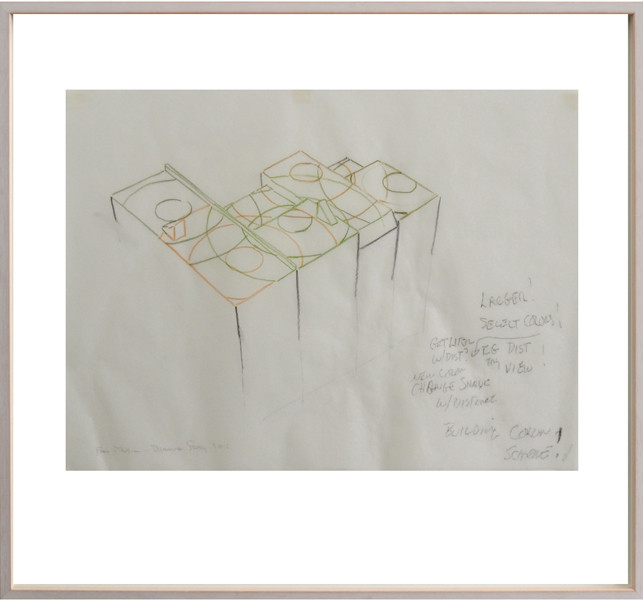 Max Neuhaus
Drawing Study - Fan Music, 1990
Sound Work References:
Location: Rooftops of 137 - 141 Bowery, NYC, USA; Dimensions: 100 x 60 meters; Extant: August 9 - 11, 1967
MAX NEUHAUS
Sound Works
17 September - 8 November 2014

Konrad Fischer Galerie gladly announces the exhibition of US sound pioneer Max Neuhaus (1939 - 2009) in Berlin, created in collaboration with The Estate of Max Neuhaus.

Max Neuhaus who started his artistic career as a celebrated percussion soloist performing the works of Stockhausen, Cage and Boulez must be considered being the first artist working with sound as an autonomous medium by creating non-visual sound spaces. Moreover, he established the term "sound environment" within the field of contemporary art.

Already in 1966, Neuhaus introduced a public access broadcast program inviting the radio audience to provide content (sound, music), which the artist mixed for WBAI Radio in New York. This phone/radio project called "Public Supply" has been continued with "Drive-in Music" (Buffalo, 1967) and later on with "Radio Net" (National Public Radio Network USA, 1977). At the same time Neuhaus starts creating sound works and sound environments like "Water Whistle" (since 1971) and "Underwater Music" - sound works installed in swimming pools audible only underwater -, large projects for New York Metro ("Walkthrough", 1973) and "Times Square" (1977), as well as many projects for museums throughout the world (MoMA, New York, 1978; MoCA Chicago, 1979; Musée d'art moderne de la Ville de Paris, 1983 and Whitney Biennial, 1983, among others). His best-known works in Germany are "A Bell for St. Cäcilien" (Kölnischer Kunstverein, 1989), "Three to One" (Kassel, 1992) and "Time Piece Stommeln" (2007).

Along with drawings and project drafts spanning a period from 1966 to 2007, the exhibition presents documentary material and photographies.