Simon Denny, Mario Garcia Torres, and Blinky Palermo
04 Mar - 11 Apr 2010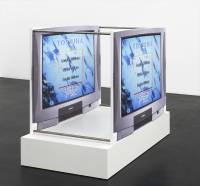 © Simon Denny
Multimedia Double Canvas Toshiba, 2009
Inkjet on canvas, metal
76 x 100 x 66 cm.
Plinth 19 x 117 x 66 cm.
Courtesy Galerie Daniel Buchholz and the artist.
THROWING THREE BALLS IN THE AIR TO GET A STRAIGHT LINE
4 March – 11 April 2010
C-salen. Curator: Dorothea Jendricke, Germany
Throwing Three Balls in the Air to Get a Straight Line brings together six artists: Simon Denny (*1982, New Zealand), Mario Garcia Torres (*1975, Mexico), Thomas Kratz (*1972, Germany), Falke Pisano (*1978, NL), Ryan Siegan-Smith (*1982, United Kingdom), and John Baldessari (*1931, USA).
The delightfully playful title is merely borrowed of a 1973 work by John Baldessari in which the artist repeatedly documents his attempt to toss—with geometrical precision—three balls in the air. The title not only determines an action anyone could perform in order to realize the work, it also guides our interpretation of the nearly abstract images we are trying to understand.
With very simple means Baldessari here manages to call into question various aspects of the conceptual artistic process. For the absurd poetry of this undertaking humorously implies a self-aware approach to reflecting upon the conceptual and pictorial dimensions of an artwork.
But in fact the exhibition here displays another key work by the iconic conceptual artist from 1972, Baldessari Sings LeWitt. It is a video work where the artist performs Sol LeWitt's 1968 manifesto Sentences on Conceptual Art to a variety of well-known melodies. His interruptions, repeated starts, and frank remarks on the increasingly ponderous nature of his absurd undertaking, add several additional layers of signification to LeWitt's text. Yet, at the same time, this work draws into question the authority of such a manifesto.
The six artists works presented at Malmö Konsthall focus on ideas generated from ideas—ones that, from time to time, reveal their own conditionality in direct ways. They form a loose dialogue that takes a look at the visible discursive process of reconciling the parameters of one's own medium, like Baldessari does. With an awareness of their historical context the works by Simon Denny, Mario Garcia Torres, Thomas Kratz, Falke Pisano and Ryan Siegan-Smith extend beyond historical positions, cast them in a new light and render a reflexive conversation with recent art history.
Residency Far Away So Close (RFASC) is a project for encouraging collaborations between the regional art scene of Skåne and international, professional curators. RFASC aims to create a practical setting for the curator in which to realize their work and to provide a platform for investigating the nature of collaborations between institutions and freelance curators.
www.farawaysoclose.se