Chris Burden
19 Nov 2013 - 11 Jan 2014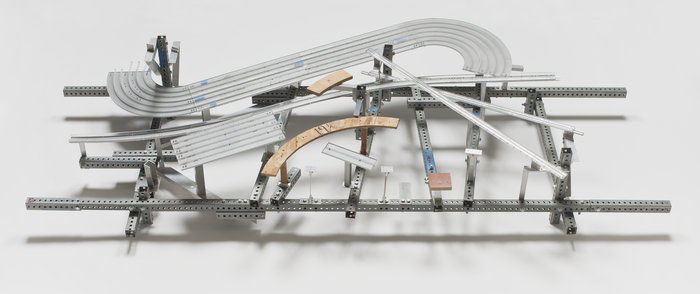 © Chris Burden
Metropolis II Study,2008
Steel grid with plastic track and wood platforms
51 x 127 x 305 cm
CHRIS BURDEN
Metropolis (Studies) / Bridge / Coyote Stories
19 November 2013 - 11 January 2014

Chris Burden's exhibition Extreme Measures currently showing at the New Museum has been described by critics as one of the most important exhibitions of contemporary art. The American artist, born 1946 in Boston, has been creating sculptures and installations since the 1990s – works that reflect his interest in technology. Burden's imaginary megalopoles are, for instance, kinetic models of highly modern cities that are animated by the sound backdrop of speeding miniature cars and trains (Metropolis I and Metropolis II, 2004/2008). The sketches of the bridges that are built with construction kits for children are in part based on real models. The piece Coyote Stories (2005) provides a glimpse of an experience the artist had – his in part dangerous encounter with coyotes in California.

His conceptual work includes a series of performances taken place in the 1970s in which Burden used his own body and this often in a very violent way. Commenting in retrospect on his artistic development Burden noted: "My work has gone from dealing with personal issues of power to external issues of power." Burden's interest in highly developed civilizations together with his great fascination for technology has led him to develop imaginary societies. One such society is also Metropolis. The works in the exhibition Metropolis II Study and Metropolis (set of 6 drawings) are two main studies from the entire Metropolis project. The six drawings allude to the entire mental process – from the original idea and its further development – and were selected by the artist himself. For the sculpture he worked with exactly the same material that he had used for Metropolis II, which gave the sculpture a special status. Metropolis II is spacefilling, complex kinetic sculpture modeled after an uncontrollably growing modern city. Chris Burden on it: For the viewer, the noise, the incessant train traffic, and the racing toy cars evoke the stress of life in a dynamic, highly active and hectic 21st century city.

Since 1997 Burden has been building a series of scale-sized bridge models for which he works with special variations (stainless steel) of Meccano and Mysto Erector construction sets – popular children's toys since the 1910s. His special interest in bridge constructions reflects his fascination in the human impulse to overcome obstacles and to control the forces of nature. For Burden the bridge symbolizes the development of civilization. All over the world, the upswing of a country always relates directly to the built bridges.

In the Coyote Series portfolio, Chris Burden documents his very personal encounter with coyotes in the hills of his home in southern Californian Topanga Canyon over a period of twenty-five years. The stories range from dream-like and imaginary encounters to ones that are brutally violent. All stores go back to Burden's descriptive texts for his performances in the 1970s.