Cevdet Erek, Slavs and Tatars
09 Mar - 06 May 2013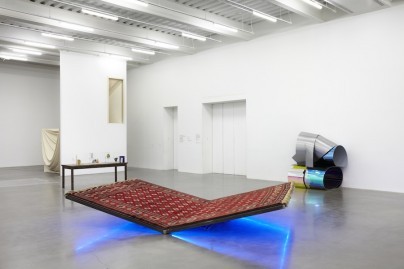 Slavs and Tatars, Pray Way, 2012, silk an wool carpet, MDF, steel, neon
390 x 280 x 50 cm. Photo courtesy of Benoit Pailley / New Museum.
ARTISTIC DIALOGUES V (the final episode)
with SLAVS AND TATARS and CEVDET EREK
9 March - 6 May 2013

The series of Artistic Dialogues, initiated in 2011, is coming to an end in a final episode. The series is comprised several solo-exhibition, which take place in simultaneous or in shifting positions, involving and activate the two exhibition-floors at Künstlerhaus. The artist for the finale are well-known: Cevdet Erek exhibited at dOCUMENTA (13) and was the winner of the Nam June Paik award in 2012.