40I10
12 Jul - 26 Oct 2014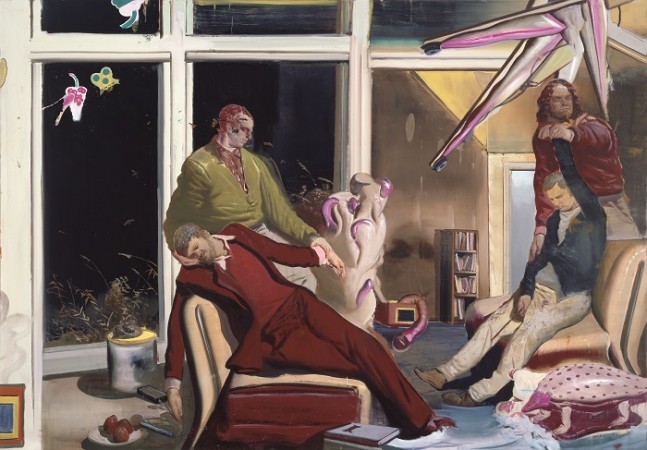 Neo Rauch
Interview, 2006
Oil on Canvas
210 × 300 cm
Museum Frieder Burda. © Neo Rauch / Galerei EIGEN + ART Leipzig/Berlin, 2014.
40I10
40 Years Collection - 10 Years Museum Frieder Burda
12 July - 26 October 2014

The Staatliche Kunsthalle Baden-Baden and the Museum Frieder Burda are celebrating the tenth anniversary of the Museum Frieder Burda, presenting highlights from the collection which has constantly grown for forty years. As was the case on the occasion of the museum opening in 2004, the exhibition will again present various groups of works from the extensive holdings of the collection at two venues — at the neo-classical Staatliche Kunsthalle Baden-Baden designed by Hermann Billing During as well as in the museum building designed by Richard Meier. The anniversary exhibition is being curated by Helmut Friedel (Staatliche Kunsthalle Baden-Baden) and Götz Adriani (Museum Frieder Burda).

Exhibition at Museum Frieder Burda

On one's tour through the exhibition, one can trace both personal stages in the life of Frieder Burda from the past forty years as well as general developments and trends in 20th- and 21st-century painting and sculpture. While works by German Expressionists such as Ernst Ludwig Kirchner and August Macke shaped Frieder Burda's childhood and form the basis of his collection, an extended stay in America in the seventies generated his interest for the Abstract Expressionists Jackson Pollock, Willem de Kooning, and Mark Rothko. His enthusiasm for American artists continued in subsequent years and intensified with his purchase of works by artists such as Andy Warhol, John Chamberlain, Robert Rauschenberg, William N. Copley, Malcolm Morley, Alex Katz, and Richard Estes.

Paintings from Pablo Picasso's late oeuvre with their extraordinary power of expression reflect Frieder Burda's affinity with France and will be shown in the exhibition as a selfcontained body of works.

Exhibition at Staatliche Kunsthalle Baden-Baden

Works by Günther Uecker, Heinz Mack, Adolf Luther, and Christian Maggert, on the other hand, represent an important phase of postwar German art history. In 1958, the artists joined forces to establish the ZERO group, propagating an idealistic fresh start in art through their purist light-kinetic wall objects. Extensive monographic groups of works by Gerhard Richter, Georg Baselitz, and Sigmar Polke from the 1960s to the present take on a unique role in the Collection Frieder Burda. Unlike ZERO, they stand for the enormous prominence of the picture and its continuity in German painting of the past fifty years. These are supplemented by outstanding paintings by Eugen Schönebeck, Anselm Kiefer, Markus Lüpertz, and Arnulf Rainer; by Neo Rauch, Herbert Brandl, Corinne Wasmuht, Karin Kneffel, as well as by other contemporary artists.

The anniversary catalogue

The publication includes illustrations and the descriptions of numerous works from the collection, an interview with Frieder Burda, as well as a tribute to Richard Meier's museum architecture. It furthermore provides insight into all of the Museum Frieder Burda's previous exhibitions. With contributions by Götz Adriani, Hans-Joachim Müller, Wolfgang Pehnt, et al. Hatje Cantz Verlag; German and French, 336 pages, 35 euros.