Alfred Flechtheim.com | Art Dealer of the Avant-Garde
16 Oct 2013 - 16 Feb 2014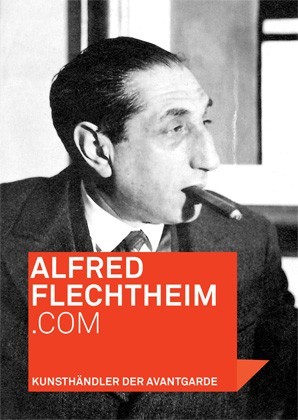 Alfred Flechtheim at the Léger-Ausstellung, Berlin 1928
Photo: Atelier Lily Baruch © The Royal Library Copenhagen
ALFRED
FLECHTHEIM.COM
| ART DEALER OF THE AVANT-GARDE
Joint exhibition project at 15 museums together with a dedicated website
16 October 2013 - 16 February 2014
The gallery owner Alfred Flechtheim (1878–1937) was a major protagonist in the art scene during the first third of the 20th century. His commitment to the Rhineland Expressionists, the French avantgarde and German Modernism and his support of important artists such as Max Beckmann, George Grosz and Paul Klee made him internationally famous even during his lifetime. The National Socialist regime, however, changed his life and that of his family drastically. Flechtheim had to leave Germany in October 1933. As an art dealer of Jewish extraction he suffered public defamation and, by 1935, had closed his galleries in Düsseldorf and Berlin and transferred the artworks he still possessed abroad, mostly to London, where he died in 1937 at the age of just 59 as the result of an accident. His wife, Betty, committed suicide in 1941 in the face of her imminent deportation. The remaining works of art in their flat in Berlin were confiscated and their whereabouts remains unknown to this day.
100 years ago Alfred Flechtheim opened his first gallery in Düsseldorf on 9 October 1913. His activities as an art dealer have left their mark in numerous museums to this day in the form of major works of art. These works, acquired through his galleries, have made and still continue to make a decisive contribution towards defining the profile of each respective museum. The aim of this project is to trace the path these works of art took before arriving in the museums, their provenance and their sales history from the artist to the dealer and collector. Particular attention is placed on the time Alfred Flechtheim dealt with the works as well as the circumstances under which these were ultimately acquired by the respective institutions.
Participating museums are displaying works of art to the public that have a 'Flechtheim' provenance in the form of exhibitions and presentations of works in their own rooms:
Kunstmuseum Bonn | Kunsthalle Bremen | Museum für Kunst und Kulturgeschichte, Dortmund | Stiftung Museum Kunstpalast Düsseldorf | Stiftung Kunstsammlung Nordrhein-Westfalen, Düsseldorf | Städel Museum, Frankfurt | Hamburger Kunsthalle | Sprengel Museum Hannover | Staatliche Kunsthalle Karlsruhe | Museen der Stadt Köln |Museum der bildenden Künste, Leipzig | Bayerische Staatsgemäldesammlungen, München | LWL-Museum für Kunst und Kultur, Westfälisches Landesmuseum, Münster | Staatsgalerie Stuttgart |Museum Rietberg, Zürich.
The database generated website
www.alfredflechtheim.com
provides an overview of the complete exhibition with all works that have a connection to the Galerie Flechtheim and are now in the 15 museums participating in the project.